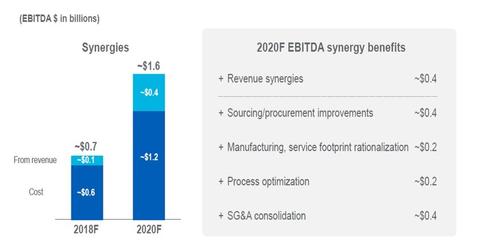 Why Is North America Important to a BHI–GE Partnership?
By Alex Chamberlin

Updated
Growth opportunities in North America
According to Baker Hughes's (BHI) investor meeting held on December 8, unconventional shales in North America could account for ~70% of the total US crude oil production in 2020. BHI estimates that between 2016 and 2020, upstream capex in North American unconventional shales could be ~$99 billion.
The majority of North America's incremental energy production is estimated to occur in the unconventional shales. North American unconventional shales primarily produce tight oil. This primarily requires the application of hydraulic fracturing techniques that involve complex procedures, as well as effective intervention from oilfield equipment and service (or OFS) providers like BHI and Schlumberger (SLB).
Article continues below advertisement
How the BHI–GE Oil and Gas business can benefit
Baker Hughes, in combination with GE's (GE) Oil and Gas business, can provide efficient solutions to North American energy producers through the following two factors:
The integrated ecosystem combines BHI's reservoir modeling expertise and GE's design and manufacturing capability. It also integrates BHI's completion equipment suite with GE's advanced wellbore placement.
Drilling automation uses predictive analytics software such as GE's Predix.
Expected synergies if BHI's deal with GE goes through
Synergies arising from cost efficiency are expected to add $0.04 to GE's earnings by 2018 and $0.08 by 2020. The combined company, which is estimated to have $32 billion in revenues, can achieve annualized revenues and cost synergies of $1.6 billion by 2020.
The net present value of these synergies is estimated to be $13.7 billion. The synergy is expected to result from 2x throughput and 50% part reduction in a combined BHI–GE oil and gas entity. BHI comprises 0.75% of the iShares Global Energy ETF (IXC). The oil and gas equipment and services industry makes up 9.9% of IXC. BHI recently made a deal with Goldman Sachs (GS) and CSL Capital Management to form a new company. You can read more about the deal in BHI, GS, and CSL Capital to Create an OFS Newco.
What does Baker Hughes's management expect in the near to medium term? We'll explore that topic in the next article.