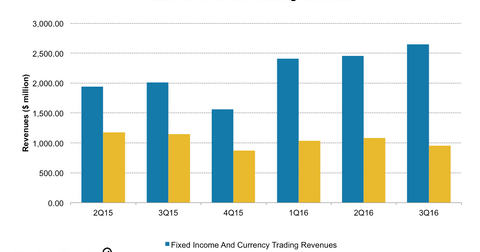 What's Bank of America's Guidance for 4Q16 Earnings?
By Rebecca Keats

Updated
Trading revenues to pick up
At a Goldman Sachs (GS) conference last week, Bank of America's CEO (chief executive officer) Brian Moynihan said fixed income trading revenues at the bank would rise 15.0% in the fourth quarter. Moynihan didn't provide any more details.
COO (chief operating officer) Tom Montag said at an investor conference last month that heightened volatility after the surprising victory of Donald Trump will help trading desks at Bank of America. Client trading volumes both in Japan and New York were higher than usual during the election.
Montag said at the conference, "Quarter-to-date has continued to be pretty good relative to last year. Not as robust as the third quarter was but still double-digit improvement … year-over-year."
Article continues below advertisement
Optimism for Trump's policies
Montag also expressed optimism for Trump's policies regarding relaxation of post-crisis banking regulations such as the Volcker Rule and the Dodd-Frank Act. Relaxing those rules may help banks (XLF) save expenses related to compliance and administrative tasks and free up capital.
During his campaign, Trump indicated that he would roll back or at least change the Dodd-Frank Act. According to Reuters, "Montag is being 'a little more cautious' about spending money on regulatory compliance until there is clarity on what will be done." Montag said, "There is a chance they change something in Volcker, maybe they change it appreciably."
Bank of America reported a 34.0% yearly rise in trading revenues in 3Q16. That quarter, the bank had revenues of $2.6 billion from fixed income trading and $954.0 million from equities. That implies a year-over-year rise of 39.0% in fixed income revenues and a fall of 17.0% in equity trading revenues.
Peer JPMorgan reported a 48.0% rise in bond trading revenues, while Citigroup (C) reported a rise of 35.0%.
Estimates
Bank of America is expected to announce its fourth-quarter results on January 13, 2017. Wall Street analysts expect it to post EPS (earnings per share) of $0.38 compared to $0.28 a year ago. Net revenues for Bank of America are expected to be $21.0 billion in 4Q16, a rise of 7.0% year-over-year.