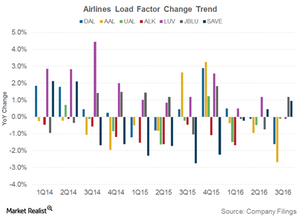 Capacity Utilization Continued to Fall in 3Q16 for Most Airlines
By Ally Schmidt

Updated
Falling utilizations
Load factor is the most commonly used measure of an airline's capacity utilization. It's calculated by dividing airline traffic or revenue passenger miles by airline capacity or available seat miles. A higher load factor indicates better utilization of aircraft capacity.
Article continues below advertisement
Legacy carriers except Alaska Air saw a fall in utilization
When capacity growth exceeds demand growth, capacity utilization falls. That's been the case for most airlines since 2015. For 3Q16, utilization for most airlines fell.
For 3Q16, Delta Airlines (DAL), United Continental (UAL), American Airlines (AAL), and Southwest Airlines (LUV) grew capacity in excess of demand. As a result, utilization across all these four carriers fell. Delta's utilization fell 1.6% to 85.4%, and American Airlines' utilization fell 2.7% to 83.3%. United Continental's utilization fell 0.10% to 85.5%, and Southwest's utilization fell 0.10% to 85.3%.
Alaska Air's traffic growth was similar to its capacity growth during the period. As a result, its load factor remained unchanged at 85.6%.
JetBlue Airways' (JBLU) traffic growth outpaced its capacity growth by 1.3 percentage points, while Spirit Airlines' (SAVE) traffic growth outpaced capacity growth by 1.2 percentage points. JBLU's load factor improved 1.2% to 86.3%, and SAVE's utilization improved 0.90% to 86.0%.
In absolute terms, both of these carriers had the highest utilization rate.
Trend analysis
Airlines are known to go overboard on capacity growth during good times. But when things go badly, airlines find it difficult to fill up those seats. That results in price wars, rendering airlines unprofitable.
It's currently no different. With crude oil prices falling since 2014, the major cost for airlines—jet fuel—fell considerably, leaving airlines with huge profits. Airlines used this opportunity to build capacity, often in excess of demand, which has led to falling utilization across airlines.
However, as we saw in Part 2, most airlines have slowed down capacity growth, which will ease the pressure on utilization. In fact, if demand continues to remain robust, utilization may actually improve.
You can get exposure to airlines by investing in the SPDR S&P Transportation ETF (XTN), which invests 30.1% of its portfolio in airlines.