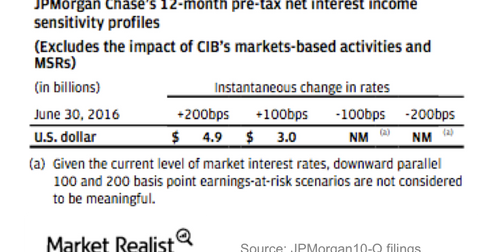 Why JPMorgan Chase Could Benefit from a December Rate Hike
By Rebecca Keats

Updated
J.P. Morgan's interest rate exposure
A 100 basis points parallel increase in short-term and long-term interest rates is expected to boost J.P. Morgan's (JPM) pre-tax net interest income by $2.8 billion. In its latest 10-Q filing J.P. Morgan illustrates how sensitive the bank's (XLF)(C) balance sheet is to interest rates.
As the table above shows, a 200-basis-point increase in interest rates would add $4.5 billion to J.P. Morgan's interest income while a 100-basis-point rise would add $2.8 billion. Meanwhile, a steepening yield curve—implying constant short-terms rates but a 100-basis-points rise in long-term rates—would result in a $700 million rise in net interest income. J.P. Morgan stands to benefit from higher interest rates, which would lead to reinvesting assets at higher yields and repricing them at a faster pace than deposits.
In 3Q16, J.P. Morgan had a loan portfolio worth $888 billion. In comparison, Bank of America (BAC) had a loan portfolio of $900 billion while Wells Fargo (WFC) had loans of $957 billion.
Article continues below advertisement