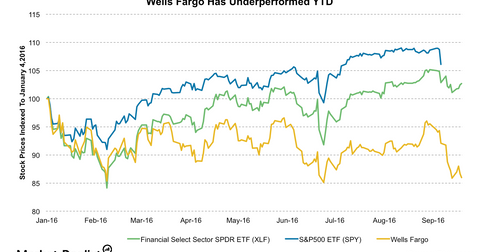 Wells Fargo Investors Watch Bank's Stock Drop on Fraud Fallout
By Rebecca Keats

Updated
CFPB fines Wells Fargo for fraudulent accounts
On September 8, 2016, Wells Fargo (WFC) was slapped with a $100 million fine by the Consumer Financial Protection Bureau, the largest ever by the CFPB. The bank also paid $50 million to the City and County of Los Angeles and $35 million to the Office of the Comptroller of the Currency. In total, Wells Fargo paid $185 million in fines for fraudulent accounts opened by employees to meet sales targets. 
This was the second time in a month that Wells Fargo was fined. In late August, the CFPB fined the bank $3.6 million over multiple student loan issues. Shares of Wells Fargo (WFC) have fallen ~9% since news of this scandal broke. Year-to-date, shares of the bank are down 16.8%.
Article continues below advertisement
Approximately 5,300 Wells Fargo (WFC) employees opened 2 million fraudulent accounts for customers who did not authorize these actions. The employees also applied for 565,000 unauthorized credit cards. In turn, Wells Fargo charged $1.5 million in fees for these fraudulent accounts that led to bonuses and incentives for employees of the bank.
Customers of Wells Fargo noticed the deception when unexpected fees were charged to them or they received debit or credit cards without requesting them. Most of these accounts went unnoticed as employees closed them shortly after receiving their bonuses tied to them.
Wells Fargo has agreed to refund about $2.6 million in fees that were inappropriately charged. The bank also terminated the 5,300 employees who participated in this scheme.
On September 20, Wells Fargo's CEO, John Stumpf, appeared before the Senate Banking Committee for an investigation into this scandal. Read on to the next part for details on the proceedings.