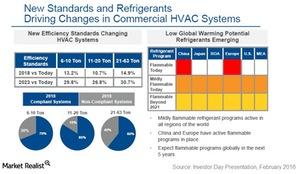 Emerson Enjoying the Heat from the Sunbelt's Population Boom
By Shannon Black

Updated
Automation products could gain traction with an eye on energy bills
The efficiency of air conditioners is rated by the Seasonal Energy Efficiency Ratio (or SEER). The standard is defined by the Air Conditioning, Heating, and Refrigeration Institute. The minimum SEER rating mandated by regulations in the United States has increased from SEER 10 in 1992 to SEER 13 in 2006 and SEER 14 today. By 2023, the minimum rating required for HVAC products is expected to increase to SEER 15.
Article continues below advertisement
The average life of HVAC (heating, ventilation, and air conditioning) systems in the United States is 15 years, a $24,000 investment based on company estimates. Since this is an important infrastructure that accounts for 50% of household energy bills, Emerson Electric (EMR) expects strong traction for some of its home automation products.
An aging installed base could help drive sales in Emerson Climate Technologies
According to a 2013 EIA (U.S. Energy Information Administration) report, an estimated 89 million HVAC systems have been in service for more than ten years. These systems, which have a useful life of eight to 20 years, could be approaching the end of their life expectancies.
The Sunbelt region, located in the South and Southwest regions of the United States, is where most air conditioning systems are sold. The life expectancy of the equipment there is even lower—ten to 15 years—due to frequent usage. Coupled with the rapidly increasing population in the Sunbelt, the replacement of HVAC equipment could increase in the coming years.
Sunbelt population growth
The Sunbelt has been experiencing a strong population growth in the last couple of years. Lured by an expanding job market and affordable housing stock, this population growth is being driven by domestic migration rather than international migration or natural birth. Because the Sunbelt region is the primary market for HVAC manufacturers that are Emerson's customers, this could be a key growth driver in the coming quarters.
If you're interested in trading in dividend-based ETFs, you can look at the SPDR S&P Dividend ETF (SDY). Major holdings of SDY are HCP (HCP) with a weight of 2.7%, AT&T (T) with a weight of 1.8%, and Caterpillar (CAT) with a weight of 1.7%.