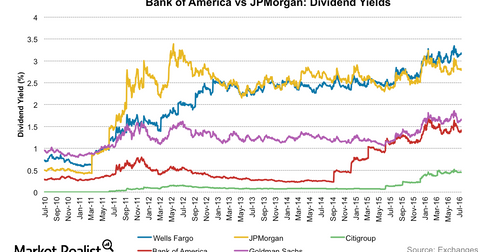 Will BAC Offer Better Dividend Growth than J.P. Morgan?
By Rebecca Keats

Updated
Dividend yields
Bank of America (BAC) and J.P. Morgan (JPM) have regularly rewarded shareholders through dividends and share buybacks. J.P. Morgan's dividend yield is significantly higher than Bank of America's at present, but Bank of America management's recent 50% dividend hike could signal solid dividend growth in the future.
After J.P. Morgan (JPM) cleared 2016 stress tests, it raised share repurchases to $10.6 billion but kept its dividends constant at $0.48 per share. J.P. Morgan has boosted its dividend payout annually over the past five years. For 2Q16, it announced dividends of $0.48 per share, 10% higher than 2Q15. The company's dividend yield of 2.9% is one of the highest among banking players.
Article continues below advertisement
The Fed's approval is important for investors who have been disappointed with the bank's low payout ratio. Bank of America (BAC) has been under pressure to increase its dividend payout for some time now. Its banking peers have already restored their dividends to pre-recession levels, but Bank of America has a long way to go. Its current dividend of $0.075 is much lower than $0.64 before the crisis. Bank of America's payout ratio is expected to rise to 49% from 36%.
Over the next 12 months, Bank of America will return $8 billion in capital to shareholders, including $3 billion in dividends. Such large-scale share repurchase plans reflect the company's confidence in its current valuations as well as long-term prospects. While the magnitude of Bank of America's capital plan is on par with peers (XLF) (VFH) Citigroup (C), Wells Fargo, and JPMorgan (JPM), its dividend yields are still significantly lower. For 2Q16, the company announced dividends of $0.05 per share, flat on a quarterly basis as well as a year-over-year basis. During the quarter, the company repurchased $1.4 billion in common stock and paid $0.5 billion worth of dividends to its shareholders.