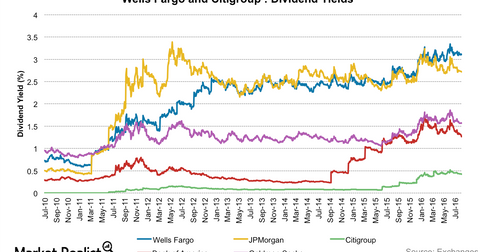 Have C and WFC Set Dividends High Enough to Attract Investors?
By Rebecca Keats

Aug. 31 2016, Updated 7:04 a.m. ET
Dividend yields
Wells Fargo (WFC) and Citigroup (C) have regularly rewarded their shareholders through dividends and share buybacks. Citigroup's dividend yield is significantly lower than Wells Fargo's at present, but it has more potential for dividend growth. Currently, Wells Fargo has a dividend yield of 3.1% while Citigroup's dividend yield is 0.4%.
In June, Citigroup boosted its quarterly dividend nearly threefold to $0.16 from $0.05 after it cleared stress tests. This payout, effective beginning in the third quarter, will raise its dividend yield to 1.5% and payout ratio to 69% from 47% in 2015. Citigroup will also increase its common stock repurchase program to $8.6 billion starting in the third quarter of 2016. This is a significant rise from the $7.8 billion announced in last year's stress tests.
Article continues below advertisement
Citigroup's planned capital actions totaled $10.4 billion in the form of dividends and buybacks over the past 12 months. This is important for investors in Citigroup, as the bank has failed these stress tests on two occasions previously. In the pre-recession era, Citigroup (C) was famous for paying out high dividends to its investors. However, when the recession hit, the company slashed dividends and stopped them completely until the first quarter of 2011.
Wells Fargo has increased its dividends annually. The company's dividend payout ratio of 35.8% is slightly lower than the cap of 40%. Its dividend yield of 3.1% is the highest among its peers. In the two-year period between 2Q14 and 1Q16, the company returned $34 billion to shareholders, outpacing its peers J.P. Morgan (JPM), Bank of America (BAC), and Citigroup (C). For more information, read Wells Fargo: Capital Return Outpaces Its Peers.
On June 29, the Federal Reserve approved Wells Fargo's capital plans after it found that Wells Fargo could keep lending in a severe economic downturn. This clears the way for Wells Fargo to reward investors through dividends and share repurchases. The bank (XLF) reiterated its previously disclosed $0.38 dividend and didn't give any update on share repurchases. On April 26, 2016, the company increased its quarterly common stock dividend to $0.38 per share from $0.38 earlier. For more on this topic, read Did Wells Fargo Pass the Fed's Stress Test?