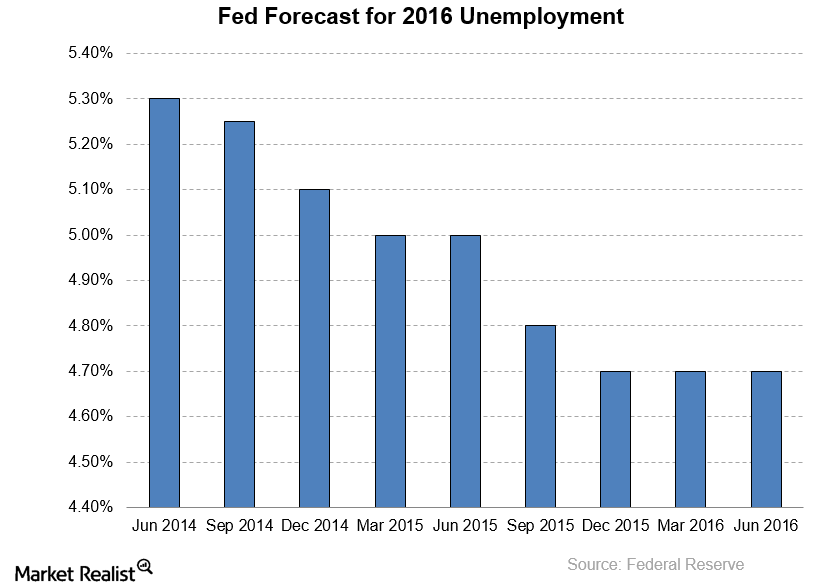 FOMC Minutes Discussed the Fed's View of the Labor Market
By Brent Nyitray, CFA, MBA

Aug. 18 2016, Published 7:13 a.m. ET
Fed discussed the labor market
After the June FOMC (Federal Open Market Committee) meeting, the Fed forecast that 2016 unemployment would come in at 4.6%–4.8%. This was unchanged from its March 2016 forecast. Both the staff economists and FOMC members give their opinions in the FOMC minutes.
The Fed's staff economists noted that payrolls employment gains jumped in June after a particularly weak May, but overall the second quarter was weaker than the first. The unemployment rate was more or less flat around 4.9%, while the labor force participation rate increased. The employment-to-population ratio fell slightly.
Article continues below advertisement
Fed members made many of the same observations as the staff, but their views on the state of the labor market and potential improvement varied widely. Some thought that the pace of payroll growth would need to moderate or else inflation would pick up. Others argued that while unemployment is low, the overall labor utilization rate is low and the Fed has more work to do on achieving full employment.
This raises issues for the dual mandate, which says that the Fed must maximize employment in the context of price stability. Historically, that meant reducing the unemployment rate to 5%–5.5%. We're well below that, but the labor force participation rate is stuck at 40-year lows. Ultimately, this is probably going to come down to wage inflation. It's beginning to stir, but it's nowhere near inflationary.
Article continues below advertisement
Implications for mortgage REITs
Wage inflation is the Fed's biggest concern right now. Once it starts seeing evidence of wage inflation, it will start raising rates. It might do this even before seeing wage inflation. This would be negative for mortgage REITs such as Annaly Capital Management (NLY), American Capital Agency (AGNC), and MFA Financial (MFA). On the other hand, wage inflation is good news for non-agency REITs such as Two Harbors Investment (TWO) because it takes credit risks.
Even if long-term rates are supported by overseas weakness, rises in short-term rates mean higher borrowing costs. This will lower net interest margins and could put pressure on dividends. Investors who want to trade interest rates directly can look at the iShares 20+ Year Treasury Bond ETF (TLT). Investors who want exposure to the financial sector as a whole can look at the S&P SPDR Financial ETF (XLF).