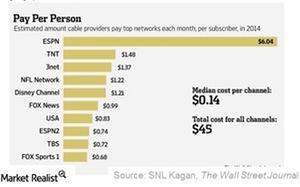 Did Disney Raise Red Flags about Fees to Its ESPN Channel in Q2?
By Shirley Pelts

Updated
Disney's affiliate fees
Late last month, MarketWatch reported that Stifel analyst Benjamin Mogil had downgraded The Walt Disney Company (DIS) from a "buy" to a "hold" but that the company's price target remained at $110.
One of the reasons cited by Mogil was that Stifel remained "cautious on absolute carriage growth, as a fully distributed high priced channel has more downside longer term than upside."
Disney has always priced ESPN robustly. As shown in the chart above, and according to a 2014 report in the Wall Street Journal citing SNL Kagan estimates, ESPN cost an average of $6.04 per month in 2014. This cost is expected to rise to $8.37 per month by 2018.
Disney indicated at a Deutsche Bank (DB) investor conference in March 2016, that it expected its pricing to moderate. "We'd be able to take increases but not at the rate that we were getting them before."
Article continues below advertisement
Outlook for Media Networks segment
Disney reiterated its outlook for its domestic affiliate fees for its Media Networks segment in its last earnings call. ESPN is part of Disney's Media Networks segment. In fiscal 2Q16, affiliate fees made up 54% of the Media Networks segment's total revenue of $5.8 billion, while advertising made up 34%.
The company has stated that it expects affiliate fees to rise at a compound annual growth rate (or CAGR) in the "high single digits" between 2013 and 2016. It expects its cable operating income to grow at a CAGR in the "mid-single digits" during the same period.
However, considering the challenging scenario for Disney's affiliate fees, the company still believes that in a changing programming distribution marketplace amid subscriber losses, a distribution model is the best way to go. Disney believes that there's high demand for its programming not only in the United States but also in international markets.