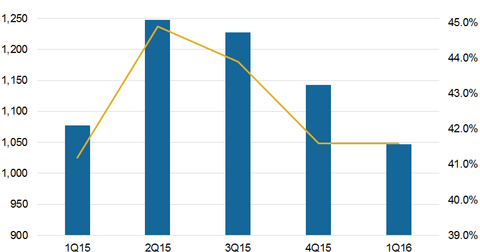 Will BlackRock See Margins Dip Marginally in 2Q16?
By Robert Karr

Updated
Expense management
BlackRock (BLK) reported a 4% rise in total revenues on a year-over-year basis. However, the company's operating expenses stood at $1.7 billion in 1Q16, in line with the prior year's expenses.
Expenses rose mainly due to a restructuring charge of $76 million, which consisted of a severance and accelerated amortization expense of previously granted deferred compensation awards. It was in connection with a project to streamline and simplify its organization. In the June quarter, expenses are expected to decline at a lower rate than revenues on a year-over-year basis.
BlackRock is leveraging on its scale and spreading costs across its segments. The company has been trying to control its operating expenses over the past few quarters in order to boost its bottom line.
BlackRock has been focusing more on its iShares and retail offerings, as it's seeing saturation in the institutional markets. This will help the company scale up its assets under management as well as increase its margins.
However, the company is facing competition from lower-cost ETFs such as State Street (STT) and Vanguard. As a result, BlackRock is adopting a similar strategy, resulting in lower fees on iShares as well as active fund offerings.
BlackRock posted a net income margin of 29.5% in the last fiscal year. Let's compare this to the margins of its peers:
Together, these companies form 1.7% of the SPDR S&P 500 ETF (SPY).
Article continues below advertisement
Expense ratio and competitiveness
BlackRock's compensation expenses declined by $34 million to $947 million in 1Q16. This was mainly due to lower incentive compensation, driven primarily by lower performance fees and partially offset by higher headcount. Compared to the previous quarter, expenses fell by $42 million. This was mainly due to lower incentive compensation driven by lower operating income and lower performance fees.
BlackRock's general and administrative expenses declined by $21 million. This was due to lower discretionary marketing and promotional spending and an increased benefit from the impact of foreign exchange remeasurement. Compared to the previous quarter, general expenses declined by $92 million, which reflected the following:
seasonal and discretionary impact of lower marketing and promotional expense
reduced foreign exchange remeasurement expense
$23 million of transaction-related expense incurred in the fourth quarter of 2015
BlackRock expects to see lower or subdued general expenses in the upcoming quarter and lower growth in expenses for all of 2016.
In the next part of the series, we'll look at BlackRock's dividends and repurchases.