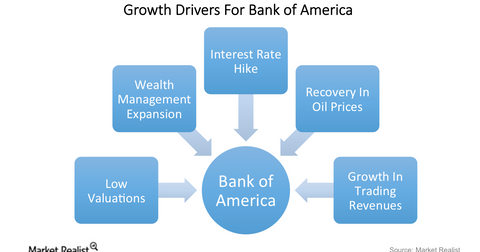 What Are the Key Earnings Drivers for Bank of America in 2016?
By Rebecca Keats

Updated
Interest rate hike
Bank of America, like most other banks (XLF), stands to benefit from an interest rate hike. As per company data, it will earn an additional $6 billion net interest income if short-term and long-term interest rates rise by 1%. Further, net interest income forms ~50% of its revenues. Thus, rising interest rates are a strong growth driver for the company's share price.
Article continues below advertisement
Growth in trading revenues
The company's fixed income trading business has performed well in April and May. The fixed income business accounts for two-thirds of its trading revenues. The equity division will likely report lower revenues, as market activity remained weak in the first two months of the quarter. Equity trading forms a much smaller part of Bank of America's trading business. Thus, this weakness won't have a big impact on second quarter earnings.
Recovery in oil prices
Bank of America's 1Q16 exposure to the energy sector was $21.8 billion, which makes up 2.4% of its total loans. Falling oil prices have hurt the company's earnings in the previous quarter, as they have created provisions against losses on loans to the energy sector. However, in the last two months, oil prices have rebounded and crossed above $50 a barrel. Further, analysts forecast oil prices will continue to rise.
Wealth management expansion
According to a Reuters report, Bank of America plans to expand its Wealth Management business in order to strengthen its top line. Low interest rates and uncertain macroeconomic conditions have hurt the bank's revenue-generating capability from investment banking and trading activities. Banks are now focusing on wealth management to boost their earnings.
Low valuations
Currently, Bank of America is trading at a discount of ~46% to its book value. Most of its peers like JPMorgan Chase (JPM), Wells Fargo (WFC), and Goldman Sachs (GS) are trading between 1x and 2x their book values. But to be sure, the main reason why BAC is trading at a low share price is that the company's profitability has been so poor. Now that its profits are rapidly improving, low valuations mean the stock has strong upside potential.