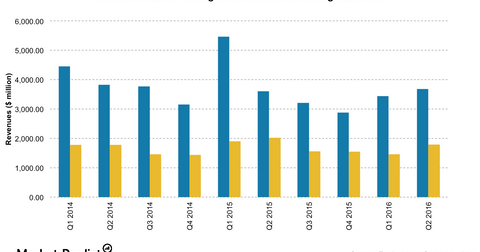 Key Factors Driving Goldman Sachs' Trading Revenues
By Rebecca Keats

Updated
Goldman Sachs' trading and investment banking activities
Goldman Sachs (GS) is more exposed to market volatility than traditional banks like Wells Fargo (WFC) and Bank of America (BAC). This is because it operates as a pure play investment bank. As a result, it's more exposed to market swings. Last year, Goldman Sachs generated nearly two-thirds of its revenues from its investment banking business and about 16% from investing and lending activities. Revenue from stock investments fell 50% in the quarter. Equity underwriting fell 55% as well. The industry (XLF) (IYF) is also on track to record the lowest quarterly total of investment banking fees since the apex of the financial crisis at the beginning of 2009. Dealogic estimates that investment banking fees around the world are down by 36% so far this year—compared to the same period in 2015.
Article continues below advertisement
2Q16 performance
In 2Q16, Goldman Sachs' trading revenues in the fixed income, currency, and commodities unit rose 20% to $1.9 billion. In the equities trading business, revenues were down 12% year-over-year to $1.75 billion. Goldman Sachs gained from higher revenues in credit and currency products. Weakness in Asian markets led to lower revenues in equity trading.
The company's investment banking business posted revenues of $1.79 billion—11% lower compared to the same period last year, but 22% higher than the previous quarter. Mergers and acquisitions activity was significantly lower in 2Q16. The lower activity levels led to lower revenues from underwriting businesses. However, Goldman Sachs ranks first in worldwide announced mergers and acquisitions in 2016 to date.