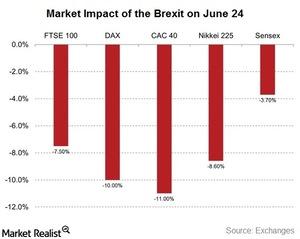 Immediate Impact of the Brexit Result: Volatility Up, Markets Down
By Surbhi Jain

Nov. 22 2019, Updated 7:06 a.m. ET
Brexit raised market volatility
The British referendum results that came out on June 23, 2016, in favor of the Leave vote contributed significantly to market uncertainty and price volatility. This impact wasn't confined to just the UK capital markets.
Article continues below advertisement
Immediate market impact
The FTSE 100 fell to a low of 5,778.70 index points on June 24, recording an almost 8% fall over its June 23 close of 6,338.10 points.
In the United States, the British equity–tracking ETF, the iShares MSCI United Kingdom ETF (EWU), fell by about 12% between June 23 and 24, while the Volatility S&P 500 Index or the VIX Index (VMVFX), which measures the volatility associated with S&P 500 stocks, recorded an adjusted close of 25.76 index points on June 24, compared to the 17.25 points it recorded the previous day.
Financial sector stocks such as HSBC (HSBC), UBS (UBS), Citigroup (C), and Barclays (BCS) fell by 9%, 13.4%, 9.4%, and 20.5%, respectively, on June 24 compared to their previous closes.
While the above data capture the immediate impact of the referendum results, for investors and for companies associated with the economy, a longer-term perspective is imperative for any portfolio-related decision.
Investment decisions need a deeper analysis
Markets rise on positive news. Conversely, they plummet when they expect an event to have negative consequences or when there's a large amount of uncertainty. However, while assessing your portfolio, you should take into consideration the short-, medium-, and long-term impacts of events or news. No sound investing decisions are based on immediate impacts on capital markets.
In light of the above, it's pertinent to do a cost-benefit analysis of the Brexit decision made by the United Kingdom, along with its short-, medium-, and long-term impacts on businesses operating in the area, some of which may form part of your portfolio.