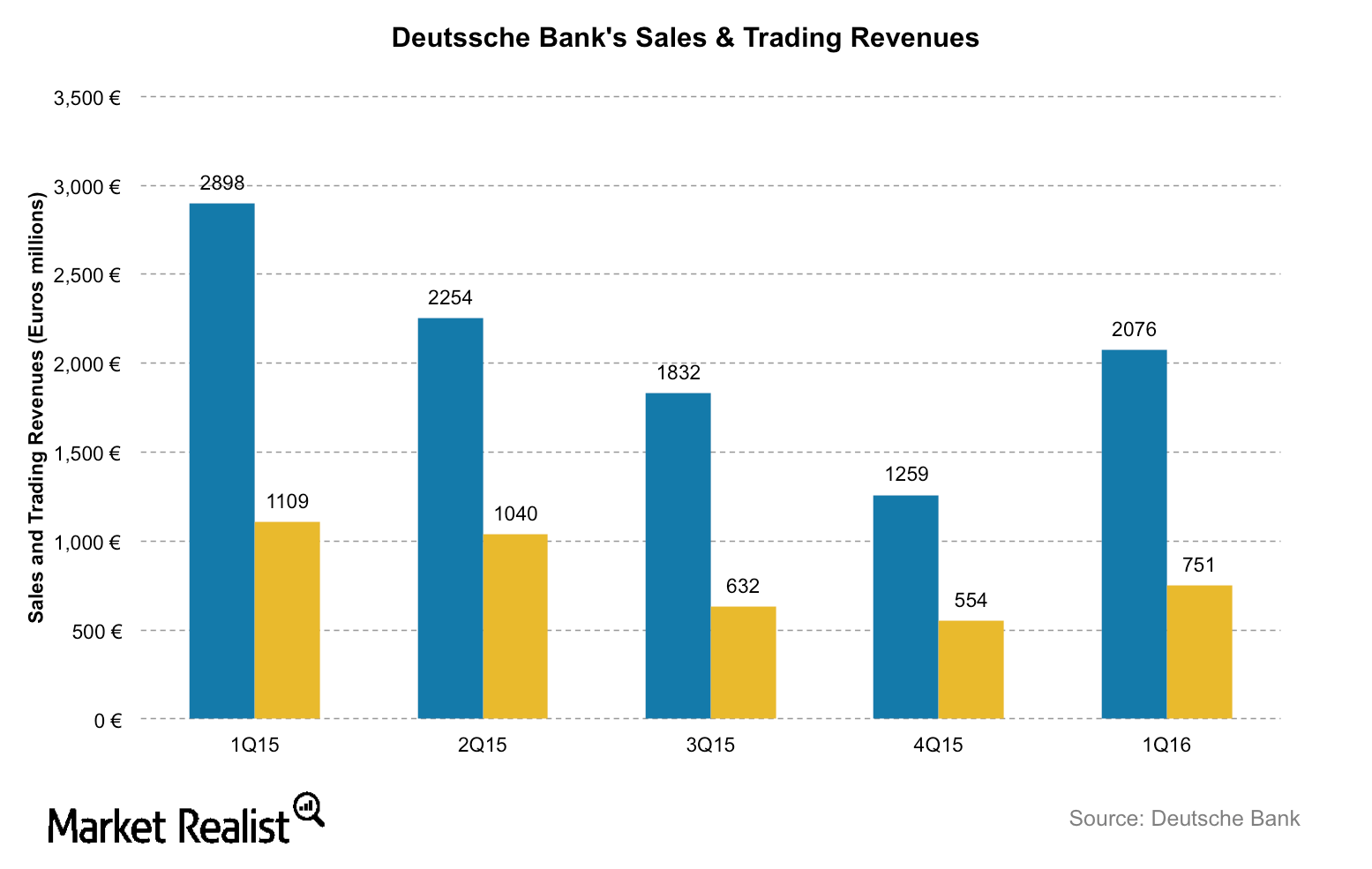 Why Deutsche Bank's Trading Revenues Plunged in 2Q16
Deutsche Bank's trading revenues declined in 2Q16
Revenues from Deutsche Bank's (DB) Corporate and Investment banking unit fell by 12% in 2Q16 to 1.9 billion euros, or about $2.1 billion, while revenues from its Global Markets business fell by 28%. Unlike major US banks, Deutsche Bank was unable to cash in on strong fixed income trading sparked by market volatility following the UK's vote to exit the EU, otherwise known as "Brexit."
Specifically, fixed income trading revenues at Deutsche Bank fell by 19% in 2Q16, while equity trading revenues declined by 31% due to muted client activity in Asia. By comparison, debt-trading revenues at the top five US Banks (XLF)—JPMorgan Chase (JPM), Wells Fargo (WFC), Bank of America (BAC), and Goldman Sachs (GS)—rose by 22% in the second quarter over one year previously, according to data compiled by Bloomberg.
Article continues below advertisement
Factors leading the decline
Equity trading revenues remained weak for DB due to weakness in financial markets and global volatility. Trading in foreign exchange, the bank's largest source of income, also fell by 19% to 1.8 billion euros, or nearly $2 billion, unlike its banking peers, which gained as investors reshuffled their country exposure after the UK's Brexit vote. All these point to Deutsche Bank's inability to benefit from market-related activity due to its focus on restructuring activities.
IPO (initial public offering) and equity underwriting activities were impacted by the slowdown in global issuances and declined by 51%. Investors preferred high-yielding debt instruments due to the prevalent low interest environment. During 2Q16, debt originations declined by 13% to 409 million euros, or about $453.2 million.