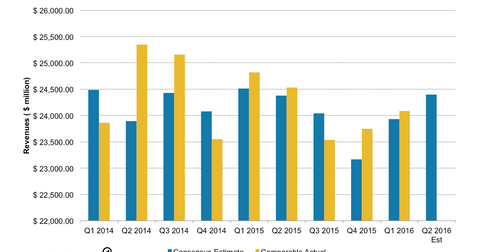 Can JPMorgan Beat Analysts Estimates in 2Q16?
By Rebecca Keats

Updated
Analysts estimates for 2Q16
On July 14, 2016, JPMorgan Chase (JPM) is expected to report its fiscal 2Q16 earnings. It will be the first among the larger US banks to report for the second quarter. Citigroup (C), Wells Fargo (WFC), Goldman Sachs (GS), and Bank of America (BAC) will report their earnings in the days following.
In the past few quarters, JPMorgan has posted better-than-expected earnings and has topped revenue estimates. This quarter, Wall Street (SPY) analysts expect JPM's revenues to decline due to the recent turmoil in the financial markets and low interest rates.
For the quarter, analysts expect revenues of $24.4 billion. This is 1% lower than 2Q15 reported revenues of $24.5 billion. Compared to the $24.1 billion in revenues reported for 1Q16, these estimates are slightly higher.
Wall Street (SPY) analysts expect JPMorgan to post net income of $5.3 billion for 2Q16. This translates to adjusted EPS (earnings per share) of $1.45 for the quarter compared to $1.50 for the same period last year. This is a decline of nearly 3%.
The Federal Reserve recently decided not to hike the interest rate and lowered the possibility of further rate hikes during the year. Suppressed interest rates negatively impact interest-related income and fee-related revenues that could pressure EPS for banks.
In the past few quarters, banks' earnings from interest-rate-sensitive assets have suffered due to low interest rates and tepid demand for various types of loans. Banks that were affected include Bank of America (BAC), Citigroup (C), and Wells Fargo (WFC).
Article continues below advertisement