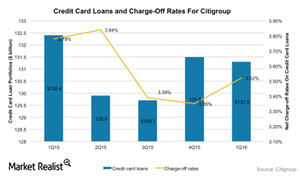 Why Is Citigroup Most Vulnerable to Rising Defaults?
By Rebecca Keats

Updated
Citigroup has the largest credit loan portfolio
Citigroup (C) has the largest credit card loan portfolio among its peers (XLF) such as JPMorgan Chase (JPM), Wells Fargo (WFC), and Bank of America (BAC). A rise in defaults on these loans would have a negative impact on its earnings. Citigroup expects US credit cards to drive growth in the coming years. It's investing heavily to grow its credit card business. In March 2015, Costco announced the sale of its US Co-brand credit card portfolio to Citigroup after its relationship ended with American Express (AXP).
To learn more, read Why Citigroup Continues to Invest Heavily in Credit Cards.
Article continues below advertisement
Rising charge-off
The credit card business is a high return–producing business for Citigroup. Consumer credit and purchases are both growing in the US. The company expects the credit card business to generate a return on assets of 2.3%–2.4% over the economic cycle. This is nearly double the company's target as a whole. A rise in charge-offs means that the bank would have to set aside a higher amount of cash for provisions to cover bad card loans. This would impact its earnings.
Citigroup's geographically diversified credit card business makes it more prone to loan losses. Citigroup also has the highest charge-off rates among big banks. In 1Q16, the company had net credit losses of 3.5% against its credit card loans. The company has credit card loans worth $131 billion that make up ~50% of its total consumer loans and 22% of its total loan portfolio. Also, the bank has loss provisions worth $1.6 billion (3.1%) for its consumer banking loans.