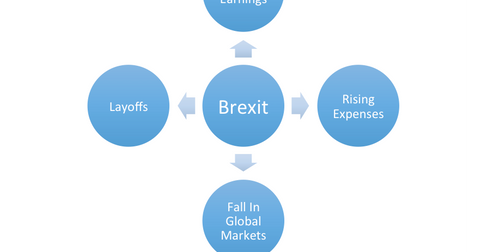 What Does a Brexit Mean for US Banks?
By Rebecca Keats

Jun. 21 2016, Published 11:19 a.m. ET
Brexit risks
The United Kingdom's withdrawal from the European Union, also termed as "Brexit," has been pursued for some time. Recent polls indicate that the possibility of a Brexit has been rising. The outcome of the Brexit could have global repercussions. It could impact global currencies and send shivers through financial markets across the world. Voting in the United Kingdom will take place on June 23.
Article continues below advertisement
Large investment banks
Stocks and companies with significant exposure to the European Union and the United Kingdom have the greatest risk. Large investment banks (XLF) in the US have base offices set up in the United Kingdom for European markets. For these banks, a Brexit would lead to increases in expenses, layoffs, and an earnings hit. A Brexit would likely result in a slump in global financial markets. This would lead to weak capital market and investment banking activities. This would hurt investment banks such as Goldman Sachs (GS), Morgan Stanley (MS), JPMorgan Chase (JPM), and Citigroup (C). Major banks are expected to announce layoffs in case they have to relocate their businesses following a Brexit. Banks also highlighted the potential impact of a Brexit in capital plans submitted to the Fed. The stress tests for 2016 included the risks of a Brexit.
In this series, we'll look at how a Brexit would impact US banks. We'll discuss issues related to expenses, earnings, and layoffs.