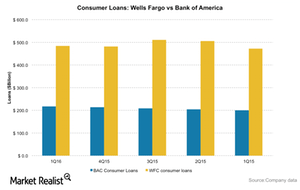 Bank of America and Wells Fargo's Consumer Banking Grew
By Rebecca Keats

Updated
Consumer banking business
Wells Fargo (WFC) and Bank of America's (BAC) consumer banking business is similar to any standard commercial bank. It offers a diversified range of products and services for consumers and small businesses like savings accounts, debit and credit cards, small business lending, as well as auto and student loans. Traditionally, this has been the strongest performing business for Wells Fargo and Bank of America. Wells Fargo is the largest commercial loan provider in the US.
Article continues below advertisement
Comparing Wells Fargo and Bank of America
In the first quarter, Bank of America's consumer banking business displayed healthy growth. Last quarter, the bank benefitted from good consumer and commercial banking activity. The consumer business segment earned $4.5 billion—up 16% from the same quarter the previous year. Loans and leases displayed growth last quarter. They were $901 billion—up 3% YoY (year-over-year). Deposits grew by 6% to $1.2 trillion. Credit and debt card spending grew by 5%. Consumer loans grew to $218 billion—up 9% YoY.
However, Wells Fargo's consumer business was weak in the first quarter. While the segment's profit remained hefty, higher provisions for losses and operating expenses led to a fall in overall profits. The segment's profits fell 7% YoY to $3.3 billion as provisions for loan losses increased 5% to $720 million. Analysts and investors were especially concerned about weakness in this segment of the company. It wasn't expected. While loan growth moved up, it was marginal compared to rivals like JPMorgan Chase (JPM). The only saving grace for the business was rapidly growing deposits. Average deposits in this segment grew 6% to $947 million. Consumer loans grew 2.5% to $484 million.
Wells Fargo has been considered the strongest among the big banks (XLF) in the US (SPY) due to its ability to recover from the financial crisis, its low-risk business model, and its consistent financial performance.