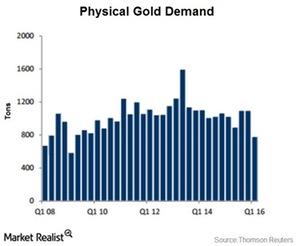 Paper Gold in Demand: Investors Shun Physical Gold
Why did gold funds rise?
Unforeseen events triggered the sudden increase in precious metals at the beginning of 2016. The year started with a bang and took precious metals on a high ride. Gold and silver both rose a whopping 21.9% and 27.4%, respectively, on a year-to-date basis.
The demand for paper gold, including the SPDR Gold Shares (GLD) and the iShares Gold Trust (IAU), has also surged significantly since the year began. These two funds have risen 21.5% and 21.7%, respectively, year-to-date.
GMFS reports estimated that gold purchased through ETFs soared to 330 tons during the first quarter of 2016. The figure is almost ten times higher than the 36 tons of paper gold demanded in the first quarter last year.
Article continues below advertisement
India and China naysayers
The physical demand for gold has been very low in the first quarter. The giant consumers of precious metals, including India and China, are the reasons behind the fall in physical demands. During 1Q16, physical demand for gold declined 23.8% compared to 1Q15. From 1,025 tons last year, it declined to 781 tons in 2016.
Physical purchases for 1Q16 declined in India by nearly 65% compared to 1Q15. China's buying fell almost 27%. Overall, physical demand in the first quarter was at a six-year low.
The tremendous rise in prices is likely fending off physical gold lovers. On the supply side, the figure seems to be higher by almost 4.2% compared to 1Q15.
A few other gold-based funds that also rose with gains in gold include the PowerShares DB Gold ETF (DGL), the ETFS Physical Swiss Gold (SGOL), and the PowerShares DB Gold Double Long ETN (DGP).