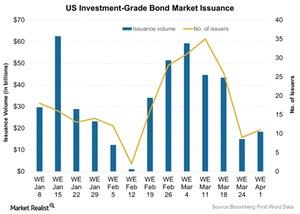 How Have Investment-Grade Bonds Fared in Quality and Maturity?
By Lynn Noah

Apr. 13 2016, Updated 9:07 a.m. ET
Issuance by quality and maturity
Fixed-rate issues formed 92.2% of the total issuance in 1Q16, while floating-rate issues worth $38.9 billion were raised in 1Q16.
Looking at credit ratings, "A" rated issuers were the most prolific in 1Q16. They made up 35.4% of total issuances at $162.1 billion. They were followed by "BBB" rated issuers, which formed 28.8% of the first quarter's issuances. "AAA" rated papers formed 18.2% of total issuances.
Article continues below advertisement
In terms of maturity, the largest chunk of issuance, making up 31.2% of all issues, was in the five-year maturity category. The ten-year maturity category followed, commanding 27.1% of all issues. The three-year maturity category made up 18.6% of total issuance in the first quarter ended March 31, 2016.
Long-term maturity categories such as the 30-year and over 30-year categories made up 11.0% and 0.8% of total issuances, respectively, last week. Meanwhile, perpetuals made up 2.1% of total issuances in 1Q16.
Funds such as the PIMCO Total Return Fund Class A (PTTAX) and the iShares iBoxx $ Investment Grade Corporate Bond ETF (LQD) provide exposure to US investment-grade corporate bonds.
Highest weekly volume
The week ended January 15 saw the highest weekly volume of $62.5 billion in 1Q16, as issuance picked up after minimal activity in the last three weeks of December 2015.
Meanwhile, the week ended February 12 saw the lowest volume of $1.0 billion in 1Q16 due to volatile market conditions.