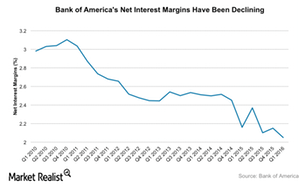 What Factors Led to Bank of America's Weak Earnings?
By Rebecca Keats

Updated
Consumer Banking business was good
Bank of America (BAC), the country's second-largest lender, has reported weak 1Q16 earnings. But they were in line with the company's guidance. Trading and underwriting revenues fell, while energy loans were a drag on earnings. Considerably lower trading activity offset the gains from lower expenses and growth in its Consumer Banking business.
Earnings of peers J.P. Morgan (JPM), Wells Fargo (WFC), and Citigroup (C) also displayed weakness, as low interest rates and volatile markets have been a drag.
"This quarter, we benefited from good consumer and commercial banking activity," said Bank of America's CEO (chief executive officer) Brian Moynihan. "Our business segments earned $4.5 billion, up 16% from the year-ago quarter."
Loans and leases displayed growth during the quarter. They came in at $901 billion, a 3% increase year-over-year. Deposits increased 6% to $1.2 trillion. Credit and debt card spending increased 5%.
Article continues below advertisement
Banks affected by interest rates
In its March 2016 meeting, the Federal Reserve decided not to change the interest rate. Subsequently, margins for US banks (IYF) have come under pressure. Banks earn lower returns on their assets as well as lower interest-based income in a low interest rate environment.
US banks started the year expecting four rounds of rate hikes in 2016. Higher interest rates lead to higher net interest income for banks, thereby resulting in higher profitability margins. The Fed's retreat from its expected interest rate hikes has led to further margin pressures.
Bank of America reported net income of $2.7 billion for 1Q16, a decline of 13% year-over-year. Revenues fell 7% to $19.5 billion, missing estimates of $20.4 billion. For the quarter, net interest income was $9.4 billion, which was lower than $9.6 billion in 1Q15. Net interest yields declined 11 basis points year-over-year to 2.1%.
Return ratios
Bank of America has set a target of 1.0% for return on assets (or ROA) for 2016. For the first quarter, the bank's ROA was 0.5%, nearly its benchmark.
Meanwhile, return on equity (or ROE) was 3.8%, considerably lower than 4.9% ROE reported last year.