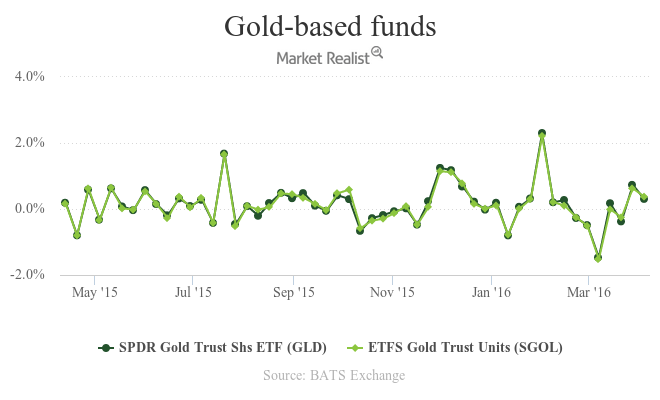 China Looks to Change the Gold Market with Yuan-Denominated Gold
Yuan-denominated gold
China is looking to change the international gold market with its recently established yuan-denominated gold. The draft trading rules have been sent out to banks that will be involved in the Shanghai fixing. The new benchmark is functional through the state-owned Shanghai Gold Exchange, or SGE, the world's largest physical gold exchange.
[marketrealist-chart id=1210255]
As the world's top producer, importer, and consumer of gold, China has decided it doesn't want to depend on dollar-denominated gold. Yuan-denominated gold is expected to set the price for gold on the SGE.
The Chinese benchmark rate will be derived from a 1 kg contract on the SGE, which will act as a centralized counterparty. The price will be quoted in yuan per gram and will be set twice per day based on a few minutes of trading in each session.
The banks that are participating in the planned launch are predominantly Chinese. However, they are actively looking for international business partners.
The world's largest gold fund, the SPDR Gold Shares ETF (GLD), is the most popular paper gold currency that investors look to for indications of gold price movement. Chinese investors are also quite interested in paper gold investments.
Article continues below advertisement
Other funds that move with gold prices include the ProShares Ultra Gold ETF (UGL), the PowerShares DB Gold Fund (DGL), the ETFS Physical Swiss Gold Shares (SGOL), and the DB Gold Double Long ETN (DGP). These four funds have risen 38.2%, 18.5%, 18.4%, and 40%, respectively, since the beginning of the year.
Participants in yuan-denominated gold
Industrial and Commercial Bank of China, Agricultural Bank of China, Bank of China, China Construction Bank, and Bank of Communications are among the ten Chinese banks that are participating in yuan-denominated gold. Chinese miners China National Gold Group and Shandong Gold Group are also joining in the yuan gold movement. Support from foreign banks is going to be crucial for the international use of the yuan benchmark, but China has had a tough struggle with regulators.