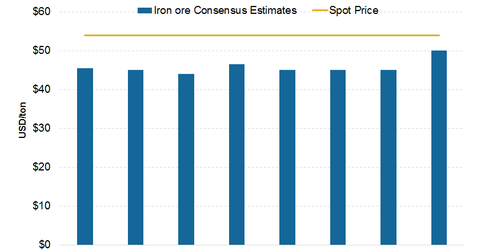 Why Do Analysts Think the Iron Ore Price Rally May Fizzle Out?
By Anuradha Garg

Updated
Consensus is bearish
Currently, iron ore prices are trading at higher levels than most analysts believe are sustainable in the long term.
While analysts have increased their short-term iron ore price forecasts due to stronger-than-expected temporary factors, not many on Wall Street are convinced of the rally's longevity. The Bloomberg median iron ore price forecast is $45 per ton for 2016 and 2017.
Article continues below advertisement
Analysts' estimates for iron ore
On March 15, 2016, Morgan Stanley lowered its forecast for iron ore benchmark prices by 14% to $40 per ton for 2016 and by 17% to $37 per ton for 2018.
According to Clarksons Platou Securities, "We are heading back down to much lower levels."
Goldman Sachs (GS) is also not convinced about the longevity of the iron ore price rally. It said, "Barring a material increase in Chinese (YINN) (FXI) steel demand in the coming weeks, we believe steel production will decline in 2016 and seaborne demand has essentially peaked. The stream of announced production cuts is bound to resume, in line with long dated iron ore prices that have remained in the low to mid $30s for 2017 and beyond." GS predicts that iron ore prices will average $38 in 2016.
Deutsche Bank (DB) is not surprised with iron ore's strength in 1Q16, as supply disruptions are common in the first quarter. However, it doesn't expect to see this rally last long, as Chinese steel demand contracts and new projects are ramping up on the supply side.
While JPMorgan Chase (JPM) increased its iron ore price forecast from $40 per ton to $47 per ton in 2016, it expects that in the long term, iron ore prices will come under pressure due to oversupply.
While Credit Suisse (CS) expects iron ore prices to remain elevated in the short term, it expects them to crash later in the year.
According to CS, "We expect the tightness will be unwound over 2Q as blast furnaces are restarting, and steel producers migrating towards using higher grade ore to improve output. So steel supply should lift, but we expect demand will remain weak. Without a big infrastructure stimulus or recovery of construction, then the demand side for steel will be missing. The steel price should fade in 2H." CS expects iron ore prices to average $35 in 2H16.
Most analysts are still bearish on long-term iron ore fundamentals. In the next part of our series, we'll see if this view is also shared by iron ore producers.