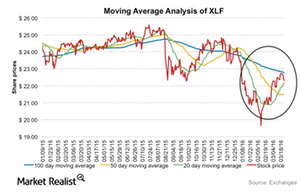 XLF May Cross Its 100-Day Moving Average: Is It Time to Buy?
Series overview
This series analyzes investors' sentiments toward the various sub-groups in the financial sector in the United States, namely insurance, regional banks, capital markets, and banks. We'll study these factors using technical indicators such as moving averages, the relative strength index, and fund flows.
For an in-depth, fundamental look at the financial sector, visit Market Realist's Financials page.
Article continues below advertisement
Overview of XLF
The Financial Select Sector SPDR ETF (XLF) attracts the most attention among financial ETFs in the United States. This is primarily because 87% of the fund is composed of large-cap stocks. With a market capitalization of $16.1 billion as of March 24, 2016, XLF is the largest financial ETF. Year-to-date, shares of XLF have fallen 7.8%.
XLF is also the most liquid financial ETF, with $ 5.9 billion worth of shares trading hands every day. The largest holdings of this ETF are Wells Fargo (WFC), Bank of New York Mellon (BK), JPMorgan Chase (JPM), and Bank of America (BAC).
Moving averages
On March 24, XLF closed at $22.31. This was 1.9%, below its 100-day moving average but 3.8% and 0.5% above its 20-day and 50-day moving averages, respectively. In the chart above, we can see that XLF broke above its 50-day moving average on March 1 and has been trending upward since. Technical analysts view such crossovers as bullish signs.
Moving averages can be analyzed in two ways. The first is by price crossover. This occurs when the stock's price crosses a moving average, signaling a potential change in trend. The second method uses moving averages of two or more lengths. When a shorter timeframe moving average crosses a longer moving average, it's seen as a buy signal, and vice versa.
Relative strength index
The relative strength index (or RSI) is a technical indicator that is used to study overbought and oversold levels of a stock. Generally, if the RSI is above 70, it indicates that a stock is overbought. An RSI of below 30 suggests that a stock has been oversold.
In the chart above, we can see that the 14-day RSI for XLF is 55.1, suggesting that it's nearing overbought levels but is still far from being considered overvalued. Given its relatively low RSI, investors may consider it a value buy for exposure to the financial sector.
Read on to study fund flows to XLF.