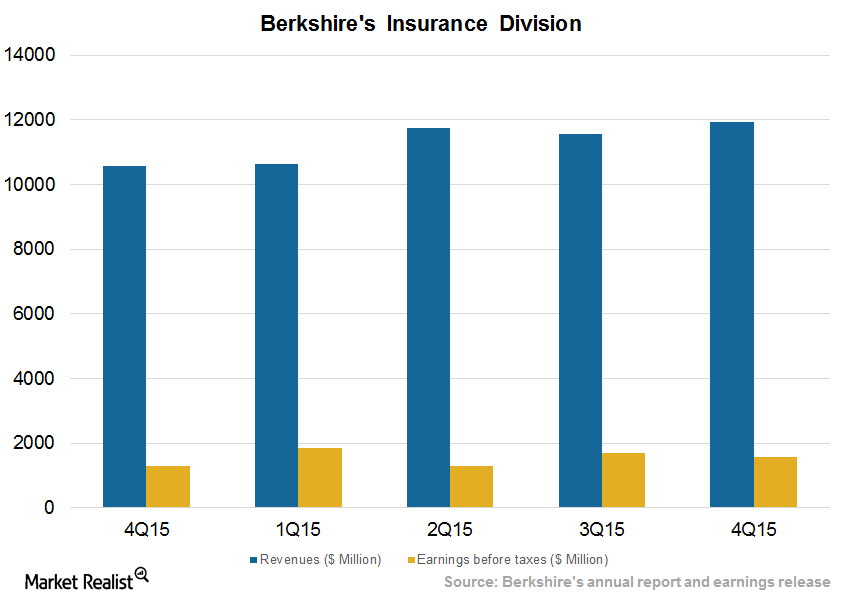 How GEICO Helped Berkshire's Insurance Deliver Strong Numbers
Berkshire Hathaway's commercial lines
Berkshire Hathaway (BRK-B) is the tenth-largest US commercial lines insurer by direct premium volume. Its commercial lines business has expanded by 125% over the past five years to $5.6 billion through acquisitions and organic growth.
In the December quarter, Berkshire Hathaway saw strong growth in its insurance business from GEICO, partially offset by its reinsurance business. Berkshire engages in property, casualty, life, and health insurance and reinsurance. Its major subsidiaries include GEICO, General Reinsurance, the Berkshire Hathaway Reinsurance Group, and the Berkshire Hathaway Primary Group.
Article continues below advertisement
In the fourth quarter, total insurance group revenues came in at $11.9 billion compared to $10.6 billion during the same quarter last year. The rise was mainly due to higher revenues from GEICO. For 2015, reinsurance business revenues fell by $7.2 billion compared to $10.1 billion in the prior year's quarter.
Slow rate hikes
The recent rise in interest rates will likely boost Berkshire's insurance income. However, further rate hikes are expected to be low and slow due to a global slowdown. Earnings before taxes for the insurance business rose to $1.6 billion due to higher profits from the reinsurance business, General Reinsurance, and GEICO.
Berkshire Hathaway expanded its book value by 3.3% in 2015. In comparison, its competitor American International Group (AIG) rose its book value by 2.7%, whereas MetLife's (MET) book value fell by 3%, and Allstate's (ALL) book value rose by 13%. Together, these companies form 6.5% of the Financial Select Sector SPDR ETF (XLF).
Reinsurance falls on increased competition
The reinsurance business has suffered due to increased competition and falling premiums. Berkshire Hathaway maintains a good amount of capital in order to write reinsurance contracts.
Berkshire Hathaway's statutory surplus for its insurance businesses was $124 billion as of December 31, 2015. The higher surplus allows Berkshire Hathaway to write reinsurance contracts for good premiums based on negotiations with insurance and reinsurance clients.
Underwriting decisions are the responsibility of unit managers, and investing decisions are mainly undertaken by Warren Buffett. The company's underwriting results are mainly impacted by catastrophic losses and currency fluctuations.