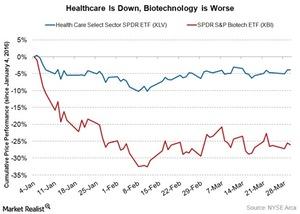 Why You Should Exercise Caution When Investing in Healthcare
By Surbhi Jain

Updated
Healthcare's rally driven by biotech
The rally seen in the healthcare sector over the last five years has largely been driven by biotechnology stocks. Where the Health Care Select Sector SPDR ETF (XLV) has returned 4.0%, the SPDR S&P Biotech ETF (XBI) has returned 22.4%.
2016 has seen a reversal in this trend. XLV and XBI have fallen by 8% and 32%, respectively, year-to-date as of March 28. Healthcare, more specifically biotechnology, is currently the most battered sector.
Article continues below advertisement
Biotech is volatile
Biotechnology is a highly volatile industry. As biotech companies grow by betting on new drug inventions, the expected payoffs and the risks associated with investing are much higher compared to other healthcare sector industries.
Healthcare momentum driven by biotechnology stock performance or merger and acquisition sprees can be short-lived. XLV has about 20% of its portfolio invested in biotechnology stocks. Investors that seek to invest in the healthcare sector due to its defensive nature should be aware of what part of their money is being invested in biotechnology.
Investing in healthcare: key risks
The healthcare sector also faces certain risks:
There's uncertainty around US healthcare sector reforms. Many high-value deals are stuck for approval on account of antitrust issues. The $37 billion Aetna (AET) and Humana (HUM) deal and the $47 billion Anthem (ANTM) and Cigna (CI) deal are prominent examples.
Biotechnology companies have been known to introduce expensive medication. This goes on to affect overall industry pricing.
Business cycle analysis seems to suggest that healthcare is on the route to bottoming out.
Investors should, therefore, exercise due caution when investing in the healthcare sector.
Read An Investor's Guide to the Complex US Biotechnology Industry for more perspective.