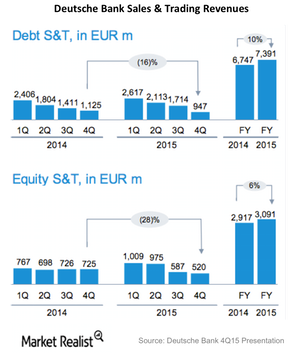 Why Deutsche Bank Warns of Industry-Wide Low Trading Revenue
By Rebecca Keats

Mar. 16 2016, Published 1:18 p.m. ET
Investment banks to suffer from low trading revenues in 2016
John Cryan, co-CEO of Deutsche Bank (DB), said in a statement on Friday that he expects overall revenues for investment banks (XLF) to decline in 2016. He cited low client activity in fixed income securities and less M&A (mergers and acquisitions) activity as the major reasons for this decline.
Article continues below advertisement
Projections for revenue sources
Banks will suffer from a sharp decline in fixed-income trading revenues in 2016, while equity trading revenues are expected to be "moderately lower." Cryan also mentioned that declining credit revenues should offset the increase in "macro revenues" due to divergence in monetary policies. Further, the corporate finance division will likely suffer from lower fee-related income, as the number of advisory deals will be significantly lower.
Revenues from deposits in the consumer banking division will likely suffer from low interest rates, while income from credit products is expected to grow. Transaction banking is expected to see "stable development," while cash management will likely feel downward pressure. Meanwhile, asset and wealth management divisions are expected to feel pressure unless Market conditions improve.
Article continues below advertisement
What to expect in 1Q16
"The beginning of 2016 has seen volatility in the world's financial markets," co-CEOs John Cryan and Juergen Fitschen said in a note to shareholders last Friday. "This has impacted the banking sector. The seasonally strong first quarter might turn out to be challenging for the sector overall. Deutsche Bank is no exception to this."
Traditionally, the first quarter of the year is a strong period for the securities business, as investors tend to place their annual investment strategies in place at this time. However, volatile markets have kept clients away from issuing debt or equity, launching IPOs (initial public offerings), or engaging in acquisitions.
Deutsche Bank is the first to provide a 2016 forecast on trading revenues after the sharp decline witnessed during the fourth quarter, with a global correction and falling energy prices curbing trading activity. Banks like Citigroup (C), J.P. Morgan (JPM), and Goldman Sachs (GS) have also expressed concerns about declining trading revenues during the first quarter of 2016.