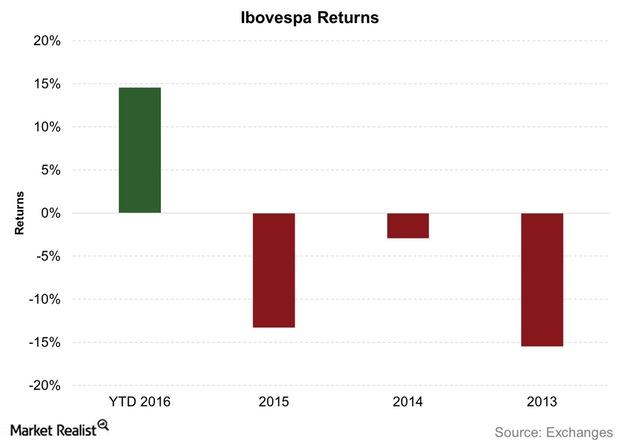 Brazilian Stocks on a Roll: Should You Be Part of the Action?
By David Ashworth

Mar. 29 2016, Published 11:05 a.m. ET
Brazilian stocks have had a great 2016 YTD
This year began on a somber note for Brazil. Stock markets around the world were gripped by volatility as global economic health became worrisome and commodity prices continued to decline. There was some relief after commodities began recovering. While most markets began to come back, there was one that raced ahead of all the others. Brazil's Ibovespa has risen more than 14.5% in Brazilian real terms YTD (year-to-date) through March 24, 2016, outpacing other major stock markets around the world.
Article continues below advertisement
The run-up in Brazilian stocks has been fueled by expectations that President Dilma Rousseff will soon be impeached, thus ending the political deadlock that has stalled economic reforms the country so desperately needs. The anticipated impeachment is the only fundamental change for Brazil since 2015. However, a new government will not be a panacea for all that's wrong with Brazil.
Budget balance woes
Nelson Barbosa, Brazil's finance minister, recently said the government expects a primary budget surplus of 2.8 billion reais, down sharply from 24 billion reais expected earlier. This small surplus could turn to a deficit since the government's revenue is declining quickly. And if the government engages in spending in order to support the economy, the budget balance could quickly turn to a deficit for 2016.
According to newspaper reports, Brazil's banks, including Itau Unibanco Holding (ITUB), Banco do Brasil, Banco Bradesco (BBDO), Caixa Economica Federal, and Banco Santander (SAN), have raised provisions against default because of rising unemployment and an increase in bankruptcy filings.
Latin America–focused mutual funds
One of the ways to invest in Brazilian stocks is through Latin America–focused mutual funds (PRLAX) (MDLTX). In this series, we'll look at nine of these funds and see what quantitative metrics have to say about each fund's performance. Then we'll paint a picture of what you can do with Brazilian stocks in general and these funds in particular.
Let's begin our fund-by-fund analysis with the Aberdeen Latin American Equity – Class A (ALEAX).