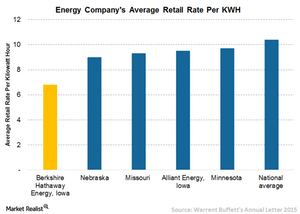 How Berkshire's Low-Cost Business Model Creates an Enduring Moat
By Peter Barnes

Mar. 8 2016, Updated 2:25 p.m. ET
Buffett's 2015 letter
As with all his earlier letters, Warren Buffett's 2015 letter to Berkshire Hathaway (BRK.A) (BRK-B) shareholders is informative, enlightening, and thorough, coming in at 30 pages. Although this year's letter is a mix of data, insight, and humor, Buffett also tried to dispel many allegations and misconceptions that have been lingering for quite some time.
We'll start this series with a discussion on Berkshire's low-cost advantages in many of its wholly owned businesses and his focus on risk management strategies. We'll also discuss how Buffett defended his association with 3G Capital and the practices followed by Clayton Homes. To wrap up the series, we'll touch on Buffett's focus on renewable energy and his assessment of climate change.
Article continues below advertisement
Low-cost model of Berkshire Hathaway Energy
BHE (Berkshire Hathaway Energy) charges the lowest energy (IYE) (IEO) costs to its customers. Buffett also provides comparative charges for BHE and other energy companies in other states. For instance, BHE's average retail rate in Iowa is 6.8 cents per KWH (kilowatt hour) compared to 9.5 cents per KWH charged by Alliant Energy Corporation, which is the other major electric utility in the state.
The comparable industry figures for adjacent states as provided by BHE are:
Nebraska: 9.0 cents per KWH
Illinois: 9.3 cents per KWH
Minnesota: 9.7 cents per KWH
Missouri: 9.3 cents per KWH
The national average is 10.4 cents per KWH. Buffett noted that the lower charges add up to real money for the company's customers.
Buffett further stated, "Those outstanding performances explain why BHE is welcomed by regulators when it proposes to buy a utility in their jurisdiction. The regulators know the company will run an efficient, safe and reliable operation and also arrive with unlimited capital to fund whatever projects make sense."
Article continues below advertisement
Focus on cost-conscious managers
Buffett believes that conducting operations in a way that earns the approval of regulators and the people provides a long-term benefit to Berkshire Hathaway. He also believes that the best way to keep them happy is to use the low-cost business model. This cost-consciousness provides Berkshire with a competitive advantage, which very few companies currently enjoy.
Buffett notes that Berkshire Hathaway (BRK.A) (BRK-B) yearns for efficiency and detests bureaucracy. The company follows an approach emphasizing avoidance of bloat by buying businesses that have long been run by cost-conscious and efficient managers.
Burlington Northern Santa Fe
Buffett extends his low-cost advantage to BNSF (Burlington Northern Santa Fe), which was purchased by Berkshire in 2009 and is now one of the largest railroad (IYT) companies in the US.
Based on Buffett's analysis, BNSF's charged its customers just under $0.03 per ton-mile in 2015, compared to $0.042–$0.053 for customers of the other four major US-based railroads.
GEICO
GEICO, the second-largest auto insurer in the country, follows a low-cost business model that is based on direct-to-consumer sales rather than an expensive network of agents. The company states that new customers can save at least 15% in insurance costs compared to its competitors. This cost advantage enabled GEICO to garner 11.4% of the market in 2015 compared to 2.5% in 1995 when Berkshire acquired the company.
On the low-cost advantage, Buffett said, "The company's low costs create a moat—an enduring one—that competitors are unable to cross."