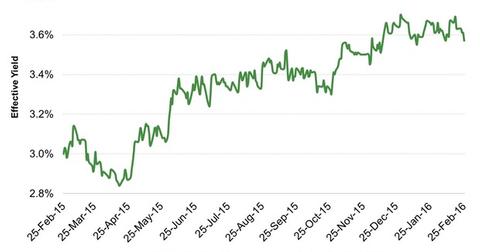 A Recap of Investment-Grade Corporate Bonds Year-to-Date in 2016
By David Ashworth

Updated
Investment-grade corporate bonds
Investment-grade bonds refer to all those fixed income issuances that have ratings of "BBB" and above as provided by credit rating agency S&P (Standard & Poor's). The agency uses modifiers "+" and "-" to "show relative standing within the major rating categories.
Thus, an issue rated "AA+" has a higher standing than another rated "AA," which itself has a better standing than a paper rated "AA-." "BBB-" is the lowest-rated paper still considered investment-grade by S&P.
Article continues below advertisement
Issuance in YTD 2016
Until the week ended February 19, 2016, the year-to-date (or YTD) issuance of investment-grade corporate bonds stood at $216.6 billion. The highest individual issuer was Anheuser-Busch InBev (BUD), whose $46 billion issue made it the second-largest issuer of high-grade bonds ever, behind Verizon's (VZ) $49.0 billion issuance in 2013.
Other notable issuers included Morgan Stanley (MS), AT&T (T), Apple (AAPL), PepsiCo (PEP), Comcast (CMCSA), Toronto-Dominion Bank (TD), and the Royal Bank of Canada (RY).
Yields on investment-grade corporate bonds
YTD in 2016, yields on investment-grade corporate bonds have been in the tight range of 14 basis points between 3.55% and 3.69%, as measured by the BofA Merrill Lynch US Corporate Master Effective Yield. In 2015, the range was 2.8%–3.7%.
Apart from volatility and worries about China, yields have been impacted by inflation data as well as comments from Janet Yellen, the Federal Reserve chair, about a possible delay in the next rate hike due to the economic slowdown. She added that the possibility of a rate hike in 2016 remains very much on the table.
The Bank of Japan's decision to push its interest rates into negative territory on January 29, 2016, to stoke inflation and to bolster business and consumer confidence also impacted yields.
Article continues below advertisement
Spreads
The BofA Merrill Lynch Option-Adjusted Spread measures the average difference in yields between investment-grade bonds and Treasuries. Securities selected for calculating this spread are the ones that are rated "BBB-" or higher on the rating scale of S&P.
In 2015, spreads ranged between 1.3% and 1.8%. YTD 2016 as of February 25, they have been between 1.7% and 2.2%. Given that widening spreads can indicate worsening credit and economic conditions, these instruments need to be monitored.
Mutual funds
There are many mutual funds that provide access to investment-grade corporate bonds. They have varying exposures to Treasuries and other high-grade bonds such as the Janus Flexible Bond Fund Class A (JDFAX). They can be duration specific as well, such as the Nuveen Short-Term Bond Fund Class A (FALTX).
In the next article, let's look at what you can do with investment-grade corporate bond mutual funds in the remainder of 2016.