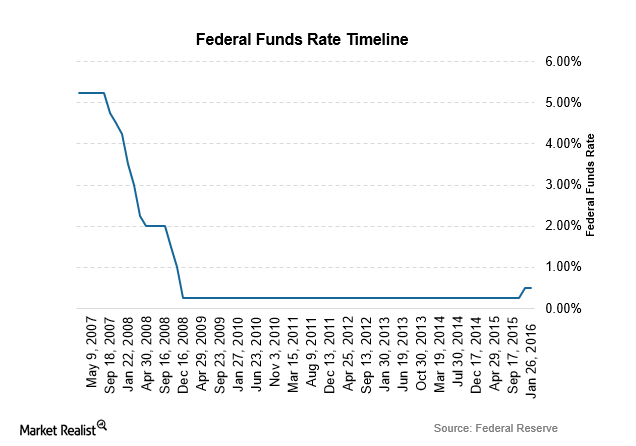 Major Movers of the Financial Markets in the Past 20 Years: Part 2
By David Meyer

Nov. 20 2020, Updated 12:32 p.m. ET
Global financial crisis of 2008: The major mover
The global financial crisis of 2008 proved to be the major mover of the financial markets in the last 20 years. While the dot-com bubble saw Internet companies take a beating, it was the banking sector in the financial crisis of 2008 that saw bankruptcies and consolidations. Many banks failed during the crisis, which eventually led to many of them such as JPMorgan Chase (JPM) and Citigroup (C) consolidating.
The effect was felt globally. Other sectors and insurance companies such as American International Group (AIG) also felt the heat. By 2008, the financial world had become so interconnected that any crisis in one part of the world had an impact on the entire system.
Article continues below advertisement
Quantitative easing and tapering
The crisis led to then Fed chair Ben Bernanke instituting the near-zero interest rate system and the quantitative easing (QE) program. QE began in 2009 when the Fed decided to increase the size of its balance sheet and buy more mortgage-backed assets and Treasury notes. It did this to stimulate growth in the US economy.
The Fed bought nearly $30 billion worth of assets every month. This was followed by another round of QE in 2010 when the Fed increased its balance sheet by another $600 billion. This came to be known as QE2. The final round of quantitative easing, or QE3, was announced in 2012. It released $40 billion into the economy on a monthly basis, which kept increasing until the Fed decided to start tapering until the buying of assets slowed down to zero over a period of time.
Recent slide in emerging markets
At the end of the tapering, the Fed decided to start with an interest rate hike. There were repercussions in the financial markets as the reverse carry trade started unfolding and investors started taking money from emerging economies. This was one of the reasons for the collapse of the Chinese stock market with China-related funds such as the iShares China Large-Cap (FXI) and the iShares MSCI China (MCHI) posting sharp corrections.