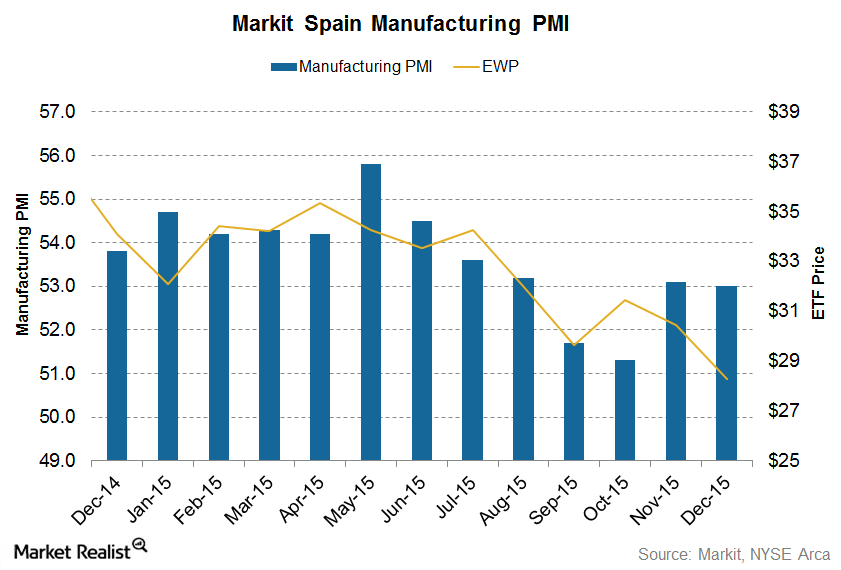 Spain's Manufacturing Activity Hit 2-Month Low in December
Spain's manufacturing PMI rose to 53.0 in December
According to Markit, Spain's manufacturing PMI (purchasing manufacturers' index) increased to 53.0 in December, a decline of 0.1 points from November's reading of 53.1. As a result, the iShares MSCI Spain Capped ETF (EWP) fell 1.3% on January 4.
Spanish ADRs (American depositary receipts) Telefónica (TEF), Grifols, S.A. (GRFS), Banco Santander (SAN), and Banco Bilbao Vizcaya Argentaria (BBVA) fell 2.3%, 1.4%, 1.6%, and 1.4%, respectively, on January 4, 2016.
Article continues below advertisement
Commenting on the Spanish Manufacturing PMI survey data, Andrew Harker, senior economist at Markit and author of the report, noted in a press release: "The latest Spanish manufacturing PMI data signalled a solid end to 2015 for the sector as growth rates for output and new orders continued to accelerate following a brief slowdown around the end of Q3.
"The rate of job creation remained weak, however, with companies perhaps cautious about making decisions on hiring and investment ahead of the election on December 20th (the data were all collected prior to the election) and subsequent results."
Sharper rises in output and new orders
Spain's manufacturing production and new business saw a solid jump in December. With increased new orders, the backlog of work is also growing. Despite a growing order book, companies were cautious about hiring more employees to meet growing demand. Employment grew only marginally in December.
During the month, Spain's manufacturers increased purchasing activity to meet rising demand. Preproduction inventories, as well as finished goods inventories, were lower during December. Vendor performance deteriorated in December, with shortages of stocks at the suppliers' end.
Declining commodity prices, especially for steel, helped keep cost inflation low. Also, sale price decreased as manufacturers passed the savings to their customers. A boost in new orders and output growth may further help the revival of Spain's manufacturing activity.
The UK manufacturing PMI was recently released, which we'll cover in the next article.