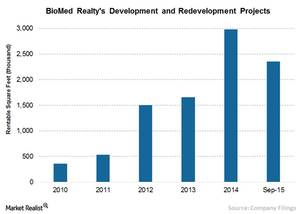 BioMed Realty's Strategy: Adding Value through Property Development and Redevelopment
By Peter Barnes

Jan. 4 2016, Updated 3:44 p.m. ET
BioMed Realty's higher-yielding facilities
BioMed Realty Trust (BMR) focuses on value creation through development and redevelopment of existing and new properties. The company intends to develop a new laboratory and office space on land it has acquired for development. In addition, the company also aims to redevelop existing non-laboratory space into higher-yielding laboratory facilities. BioMed Realty expects to improve the overall quality of its portfolio and generate higher returns over the long-term through development and redevelopment of properties.
Article continues below advertisement
Other major REITs (real estate investment trusts) such as Kilroy Realty Corporation (KRC), Boston Properties (BXP), and SL Green Realty Corporation (SLG) are also active in the property development and redevelopment projects. The SPDR Dow Jones Wilshire REIT ETF (RWR) invests approximately 0.8% of its portfolio in BioMed Realty.
Development initiatives
As of the end of fiscal 2014, the company's development and redevelopment projects comprised a rentable area of 3 million square feet. Over the last five years, BioMed Realty's development and redevelopment projects has witnessed a substantial rise, increasing from approximately 0.4 million square feet in 2010 to 2.4 million square feet as of September 2005.
Article continues below advertisement
BioMed Realty's recent projects
The company completed the following development and redevelopment projects in recent years:
It signed a contract with Illumina for a new 520,000 square foot life science campus in Foster City, California.
It developed of 42,400 square feet facility in the Cambridge Science Park, UK.
It constructed a 122,700 square foot laboratory and office building in Seattle, Washington.
It entered into a 99-year ground lease on a 10-acre site in Philadelphia for development through a collaboration between Drexel University and Wexford Science & Technology.
It also constructed 360,000 square feet of space at Lincoln Centre in San Francisco.
It redeveloped of 289,468 square feet laboratory and office space at Sidney Street in Boston.
Catalysts for future growth
Most of the company's development projects are located in top markets, which commands higher occupancy and rental rates. These development and redevelopment projects are expected to generate significant growth in net operating income and cash flows in years to come. The company believes that investing in development and redevelopment projects is likely to serve as an additional catalyst for future growth.
Now let's discuss BioMed Realty's property acquisitions and dispositions.