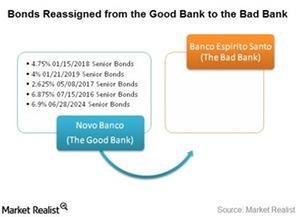 Bank of Portugal Defied Pari Passu: What Does It Mean?
What does "pari passu" mean?
The principal of pari passu requires all investors in a certain class to be treated the same way. As a bond covenant, pari passu would entitle all of the bondholders in a class to equal rights of payment or equal seniority. Accordingly, when a bank goes into resolution, the bondholders in a class expect equal rights with others at the same level in the capital structure.
Article continues below advertisement
Bank of Portugal defied "pari passu"
By assigning five of Novo Banco's 52 senior bonds to Banco Espirito Santo, worth about 2 billion euros or $2.1 billion, the Bank of Portugal defied the principle of pari passu. The five bond instruments had been taken over by the Bank of Portugal along with the assets of the good bank. Investors in the bond instruments see themselves as part of the "bad bank" or Banco Espirito Santo. It contains all of the group's toxic assets.
Bonds lost 80% of their value in a single day
Bonds that were trading at ~94% of their face value on December 29, 2015, fell by ~80% in value on December 30, 2015, as the news of the reassignment reached the market. The ECB (European Central Bank) stress tested financial institutions in November 2015. It revealed 1.4 billion euros worth of deficit on the good bank's balance sheet. It appears that the move was initiated to cover that hole.
Although market analysts would agree that this method of bailing in bondholders is preferable to the old way of using taxpayers' money to pump capital into financially stressed banks, it doesn't warrant discrimination between bondholders in the same class.
Did the Portuguese central bank forget that reassigning a few bonds from a class of 52 senior bonds would defy the underlying principle of the pari passu clause? Over time, debt issuers have followed the clause religiously. By defying the principle of equality among bondholders in the same class, Portugal (PGAL) set a bad precedence for other debt-laden banks in the Eurozone. Investors in debt issued by European (VGK) banks like Deutsche Bank (DB), Banco Santander (SAN), Lloyds (LYG), and ING (ING) might be wary of their investments due to the Portuguese episode.
To learn more, read Why Analysts Are Bullish on US Banks in the Face of a Fed Rate Hike.
To stay updated on the financial sector, visit Market Realist's Financials page. For more insightful global investment analysis, visit Market Realist's Global ETF Analysis page.