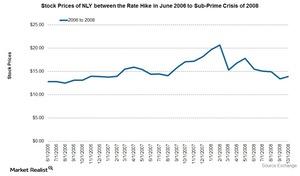 The Rate Hike's History and Its Impact on Mortgage REITs
Rate hike history
Before the recent rate hike, the Fed had raised the interest rates back in June 2006. The Fed funds rates in 2006 was raised by 0.25%, and the effective rates were in the range of 5% to 5.25%. Although the Fed increased the rates by 0.25% again, they went from 0% to 0.25%. With an increase in interest rates, markets tend to become volatile and witness swings, though investments have historically survived the rate hikes. The graph below shows the price movement of NLY between the rate hike in 2006 and the sub-prime crisis.
Article continues below advertisement
Impact on mortgage REITs
Investing in real estate has always been a topic of concern for investors due to the volatility involved. REITs have recently become a popular investment tool to provide limited time exposure to the real estate sector for investors who don't wish to make investments. The performance of mortgage REITs clearly indicates the impact that interest rates had from 2006 to 2015.
The graph below shows the price movement of NLY between the sub-prime crisis of 2008 to the Fed's decision to hike the interest rates in 2015.
Though popular ETFs like the iShares Mortgage Real Estate (REM) and the Market Vector Mortgage REIT Income ETF (MORT) were not in existence when the previous rate hike happened in 2006, We'll take them into account to better explain the nature of the impact.
After the Fed raised the interest rates in 2006 by 0.25%, the return of Annaly Capital Management (NLY) in the period between the rate hike and the sub-prime crisis in 2008 was 14.9%. However, in the period between the 2008 sub-prime crisis to date, the return equaled a negative 38.7%. The current price of NLY is $9.4 as of December 16, 2015, and the return generated by NLY equaled 2.5% on the date of the interest rate hike's announcement.
Mortgage REITs like New Residential Investment (NRZ), Chimera Investment (CIM), and American Capital Agency (AGNC) will witness the impact of a rate hike for the first time. Also, the iShares US Real Estate ETF (IYR) will be keenly followed due to the inclusion of mortgage REITs as a part of its sub-group and securities like Two Harbors Investment (TWO).