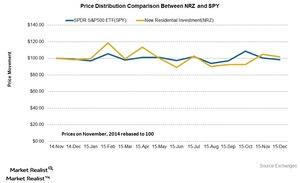 Mortgage REITs Rose among the Volatile Market
Mortgage REITs standout among all of the subgroups
The week ending December 24, 2015, reaped positive results for all of the mortgage REITs. The VanEck Vectors ETF Trust (MORT) and the iShares Mortgage Real Estate Capped (REM) ended with returns of 6.1% and 2.3%, respectively. The mortgage REIT securities like New Residential Investment (NRZ), Chimera Investment (CIM), Starwood Property Trust (STWD), and Colony Capital (CLNY) made a positive contribution to REM's performance. New Residential Investment, Chimera Investment, Starwood Property Trust, and Colony Capital ended the week with returns of 6%, 3.9%, 2.7%, and 2.9%, respectively.
Article continues below advertisement
New residential investment rose among the volatile market
The market experienced volatility since the Fed decided to increase the interest rates. The performance of mortgage REITs is on a steady rise after the Fed's decision to raise the interest rates. The heightened volatility in the market saw the trading volume for NRZ rise to 5,011,916 shares for the week ending December 24, 2015. The trailing one-year and trailing four-week return for the security is at 0.3% and 4.5%, respectively.
The following points provide a detailed analysis of NRZ's performance.
NRZ focuses on investments primarily related to residential real estate. After the rate hike announcement, banks started to raise mortgage rates. This could benefit these REITs. They can earn a profit on the spread between short-term and long-term rates.
NRZ invests in MSR (Mortgage Servicing Rights). It also benefits with rising rates as the spread earned on the contractual agreement tends to increase.
Wall Street analysts are optimistic about NRZ. It's important to note that 11 analysts gave a "buy" recommendation for the security.
The above graph shows the price comparison between New Residential Investments and the SPDR S&P 500 ETF (SPY).