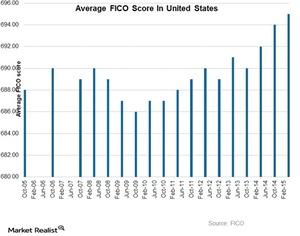 Mortgage Applications Rose despite Rate Hike
Mortgage applications are on the rise despite rate hike
The Federal Reserve's decision to increase the federal funds rate by 0.25% on December 16, 2015, had minimal impact on the mortgage volume, and the impact was well absorbed by the market as a whole. The Dow Jones Industrial Average (DJIA), the S&P 500, and NASDAQ all ended the day with positive returns of 1.3%, 1.5%, and 1.5%, respectively.
Article continues below advertisement
Borrowers are planning to refinance
Expanding economic activity, an increase in household income and expenditure, and the unemployment rate at an all-time low of 5% all encouraged the Fed to increase the interest rate. With the stable economy in view, the Fed might consider increasing the interest rate in the future. Borrowers looking to refinance at low interest rates pushed the mortgage volume higher. Applications for home mortgages rose by 7.3% for the week ended December 18, 2015, recovering from a 1.1% drop in the previous week. The 30-year fixed mortgage rates rose by two basis points to 4.1%. The average rate of mortgage applications for the US from 2007 to 2015 was recorded at 0.5%. It reached an all-time high of 49.1% in January 2015 and an all-time low of negative 38.8% in January 2009.
Lenders are also making it easier for consumers to qualify for a mortgage. FICO scores help lenders make a decision about the credit risk of an individual. The metric aims to predict how likely consumers are to pay their credit obligations. The national average FICO score is at an all-time high of 695.
The chart above shows the average FICO score for the past ten years. The delinquency rate is also decreasing across all credit products from 19.4% in October 2013 to 18.2% in April 2015.
The above scores may impact popular ETFs like the iShares US Real Estate (IYR), the iShares Mortgage Real Estate (REM), and the Market Vector Mortgage REIT Income ETF (MORT). Similarly, mortgage REITs securities like StarWood Property Trust (STWD), Chimera Investment (CIM), and TWO Harbors Investment (TWO) may also be affected by the data mentioned above.