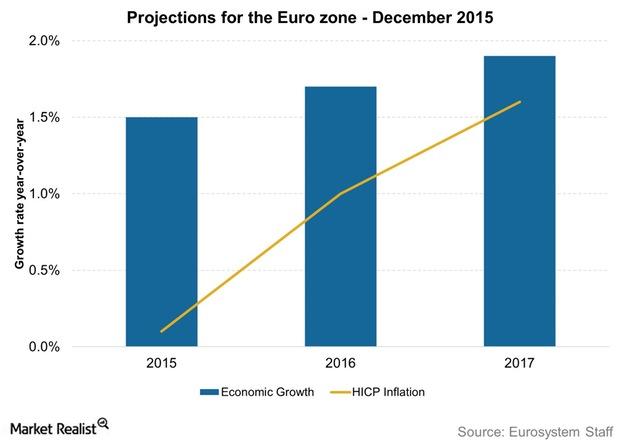 Inflation and Economic Growth Forecasts Drive Monetary Policy
Policymakers' perspective
Mario Draghi, the president of the ECB (European Central Bank), explained the reasons for the December 2015 policy actions. He stated that the Eurozone's economy has risen by 0.5%, 0.4%, and 0.3%, respectively, in the three completed quarters of 2015.
Economic growth in the region has been assisted by domestic consumption. Draghi added that there are three factors that have helped economic growth in the Eurozone:
accommodative monetary policy stance by the ECB
less headwind against fiscal policy
the fall in oil prices, which has increased disposable income and led to higher consumption
He also said that after a long time, the correlation between the ECB's inflation expectations and current inflation or oil prices "has decreased or has just disappeared."
Policymakers feel that the ECB monetary policy actions have been effective and have contributed towards their objective. However, maintaining the same policy is not enough. Draghi clarified that more monetary measures were being taken because they work, not because the previous ones have failed.
Article continues below advertisement
Economic growth and inflation projections
According to Eurosystem staff projections made in December 2015, the annual real GDP (gross domestic product) will increase by 1.5% in 2015, 1.7% in 2016, and 1.9% in 2017. These are primarily unchanged from September's projections.
On inflation, the Eurosystem staff projects that annual inflation will be 0.1% in 2015, but it will rise to 1.0% in 2016, and then to 1.6% in 2017. These projections are a bit down from the ones made in September.
Policymakers thought that this may be the appropriate time to ease ECB monetary policy further, given that growth projections are nearly unchanged and inflation is expected to fall a bit.
Other factors
In regards to reinvesting principal payments, Draghi said that there will be a series of factors in the future that may reduce liquidity in the system, such as the repayment of the TLTRO (targeted longer-term refinancing operations), and bonds bought under the ECB's SMP (Securities Markets Programme) that may become due.
The reinvestment of principal payments will ensure that monetary accommodation is maintained in face of these and other factors that may strain liquidity.
However, the markets remained unconvinced, as HSBC (HSBC), Barclays (BCS), Daimler (DDAIF), and Volkswagen (VLKAY) fell. Mutual funds such as the Franklin Mutual European Fund – Class A (TEMIX) fell as well.
What factors do you need to look out for and what can you do about your mutual fund investments? We'll look at that in the next part of this series.