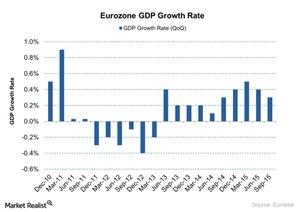 How Did the Eurozone Perform in the Past Year?
Eurozone economy
The Eurozone's economy provided a modest GDP (gross domestic product) growth rate in 2015. The Eurozone's economy went through various critical periods in 2008 due to the global financial crisis that started in the US. Also, there was the Eurozone's debt crisis in 2011. At that time, the GDP growth rate became negative in the area. As a result, the ECB (European Central Bank) took immediate action to minimize the respective funds rate to near-zero levels to revive the economy.
Article continues below advertisement
2015 GDP growth rate
In 2015, the Eurozone's (EZU) economy provided an average GDP growth rate of 0.4%. It was below the consensus estimate. Weak international trade, low domestic demand, weakness in commodity and crude oil prices, and slower growth in emerging economies dragged down the performance of the major Eurozone economies like the United Kingdom, Germany (EWG), Italy, and France (EWQ).
According to Eurostat, the Eurozone's GDP growth rate in fiscal 3Q15 was 0.3%. Due to the subdued performance, market participants were expecting more stimulus from the ECB in its monetary policy review meeting on December 3, 2015.
However, the ECB failed to meet the market expectations. It announced that there won't be more stimulus from the ECB. It extended its existing asset purchase program to the end of March 2017. It cut its deposit rate by ten basis points from -0.20% to -0.30%.
After the announcement, European banking stocks like ING Groep (ING), Unicredit (UNCFF), Banco Santander (SAN), and Deutsche Bank (DB) fell by 2.1%, 2.3%, 2.5%, and 3.1%, respectively, on that day. To learn more about the ECB's decision on December 3, read The ECB Failed to Meet Global Market Expectations.
Eurozone's major indexes in 2015
As of December 18, 2015, the Eurozone's main indices like the United Kingdom's FTSE 100, Germany's DAX, and France's CAC 40 returned -10%, -0.1%, and -1%, respectively, since January 2015. Germany is one of the Eurozone's leading economies.
In the next part, we'll analyze the Eurozone's economic prospects in 2016.