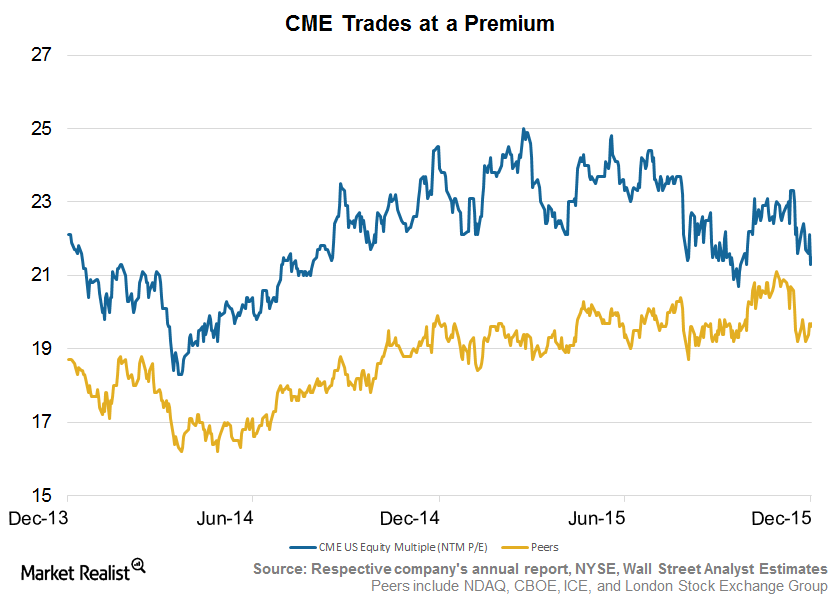 CME Continues to Trade at a Premium on Interest Rates, Energy
By Robert Karr

Dec. 4 2020, Updated 10:52 a.m. ET
Strong operating performance
CME Group (CME) had $1.5 billion in cash and marketable securities and $2.2 billion in long-term debt as of September 30, 2015. In September, the company paid out $168 million in regular quarterly dividends of $0.50. The company has also announced an annual variable dividend of $2.90 to be paid in January 2016 according to its policy of distributing excess profits every year in the form of a variable dividend. This translates into a dividend yield of 5.5% per year. Let's compare this to its peers:
Together, these companies form 0.35% of the SPDR S&P 500 ETF (SPY).
Article continues below advertisement
Valuations
CME stock has been historically valued at a premium compared to its peers. CME is currently valued at 21.5x on a one-year forward price-to-earnings basis, while its peers trade at an average of 19.7x. The company commands a premium, mainly due to higher volumes in interest rates, foreign exchange, and energy trades. CME has six asset classes, all of which have benchmarks. The exchange will benefit from offerings of complementary asset classes.
CME expects rates and energy asset classes to grow at a faster pace in the upcoming quarters. CME is also making progress in the OTC (over-the-counter) markets and portfolio managing for clients. CME Europe, the company's London-based derivative exchange, reported trade of a million contracts as of December 10, 2015, the first since its launch in April 2014. However, the company is losing the battle to LCH.Clearnet, backed by the London Stock Exchange, in the swaps clearing business. The company's market share declined to 30% in November 2015 compared to 38% in the previous quarter, mainly due to higher pricing.
The overall industry has an outlook for lower volumes in 4Q15. CME is targeting increased penetration of global clients, attractive flow from the swaps business through clearing and exchange-traded alternatives, and driving options growth across the platform. This should help the company elevate its volume in the next year.