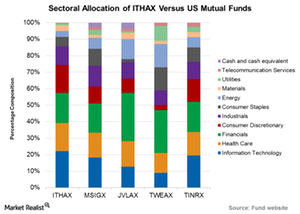 Analyzing ITHAX's Sector Allocation Compared to Other Funds
ITHAX's sector allocation
In this article, we have considered the sector allocation of five US mutual funds including the Hartford Capital Appreciation Fund-Class A (ITHAX).
Article continues below advertisement
Portfolio composition comparison
ITHAX, MSIGX, and TINRX have the highest exposure to the information technology sector. The sector exposure ranges from ~18% (MSIGX) to 22.1% (ITHAX). Meanwhile, the financial sector has a sizable exposure in all five mutual funds, ranging from 18.4% (ITHAX) to 29% (JVLAX). Companies like Berkshire Hathaway (BRK.A), Citigroup (C), JPMorgan Chase (JPM), and Wells Fargo (WFC) are likely to benefit from the Federal Reserve's decision to hike the interest rate, as they will be able to increase their prime rate. Banks may be able to improve their net interest margin, which is a measure of their profitability.
The falling price of crude oil from $105.3 in July 2014 last year to $36.96 on December 28, 2015, resulted in a lower profit margin for oil companies. Thus, exposure to the energy sector has fallen. The industrials sector has an exposure that ranges from 9% (TWEAX) to 12.6% (MSIGX). All five funds have less exposure in utilities compared to TWEAX's exposure of 9%.
In the next article, we will compare the performance of the Hartford Capital Appreciation Fund-Class A with its benchmark.