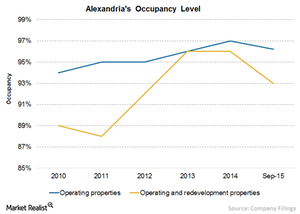 Alexandria: Flying High with Higher Occupancy Levels
Solid occupancy
The improving economy, favorable business fundamentals, and focus on science and technology companies has led to a strong demand for Alexandria Real Estate Equities' (ARE) properties in the past five years. These factors have also helped the company keep its occupancy rates at an elevated level during the same period.
Alexandria's occupancy rate of operating properties in North America was at 94% in 2010, which improved gradually to reach its five-year high of 97% in 2014. Between 2000 and 2014, the average occupancy rate of Alexandria's operating properties was at 94.8%.
Article continues below advertisement
Strong leasing volumes
In recent years, the demand for the company's well-located collaborative science and technology campuses in urban innovation clusters was robust, leading to strong leasing volumes. This is evidenced by the higher same-property occupancy rate in recent years. The higher occupancy level was also due to a lower supply of competitive properties, which would allow the company to push up net effective rents on the rented properties. The higher occupancy rate led to robust leasing activity, with 2.9 million rentable square feet leased in 2014 and 4 million rentable square feet during the first nine months of 2015.
San Francisco flying high
Alexandria's San Francisco market has witnessed strong demand for its properties, with occupancy reaching 100% in September 2015, compared with 99% occupancy during the same period of the previous fiscal year. The San Franciso market is followed by the New York City market at an occupancy level of 99.6%, Seattle at 98.6%, Greater Boston at 95.7%, and Maryland at 95.6%.
Occupancy rate
Occupancy rate is the number of units that are rented out to residents by a company in proportion to the total number of units in the building or community. Average occupancy is calculated by dividing the number of units occupied at each property by the total number of units at each property. The higher the occupancy rate, the higher the income for the company.
All office REITs, including Kilroy Realty (KRC), SL Green Realty (SLG), and Boston Properties (BXP), strive to maintain higher occupancy levels. The SPDR Dow Jones REIT ETF (RWR) invests ~1.1% of its portfolio in Alexandria. In the next part of this series, we'll analyze factors driving Alexandria's revenue.