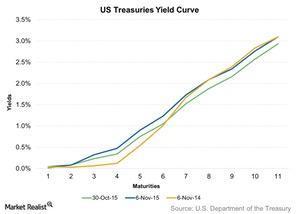 Treasury Yields Rise with Upbeat Job Data and Possible Rate Hike
By Lynn Noah

Updated
Secondary market
In the week ended November 6, 2015, Treasury yields rose across the yield curve, except for three-month Treasury bills. This was after strong non-farm payroll data supported the possibility of a rate hike during the next Federal Reserve policy meeting, which is scheduled for December 15 and 16.
The rise in yields for one-year to 30-year maturity securities was in the double digits and in the range of 13–21 basis points. Yields on the benchmark ten-year note ended at 2.3%, up by 18 basis points from the previous week.
Article continues below advertisement
Comments by Janet Yellen
Treasury yields rose after the Fed's chairwoman, Janet Yellen, commented in a congressional testimony held on November 3. She stated that a rate hike in December remained a "live possibility."
Non-farm payroll and unemployment data
Non-farm payroll data and unemployment data was released by the US Bureau of Labor Statistics on November 6. Treasury yields surged following the release of upbeat job data, as it increases the probability of a rate hike by this December.
Non-farm payrolls increased by 271,000 in October, the largest rise since December 2014, and up from 137,000 in September. The unemployment rate remained essentially unchanged at 5.0% in October.
Article continues below advertisement
Manufacturing purchasing managers' index
The ISM (Institute for Supply Management) released its manufacturing PMI (purchasing managers' index) on November 2. The manufacturing PMI in October was at 50.1, down from 50.2 in September. Treasury yields shifted upwards following the release of the PMI data.
The US manufacturing sector has been hit by the slowdown. Data indicates sluggish growth in the US manufacturing sector and companies such as Caterpillar (CAT), Deere & Company (DE), and Schlumberger (SLB) have been negatively impacted by this manufacturing slump.
Investment impact
A rise in Treasury yields across the yield curve led to a fall in mutual funds returns, as prices and yields are inversely related. Week-over-week returns of the T. Rowe Price GNMA (PRGMX) and the Dreyfus US Treasury Long Term Fund (DRGBX) were down by 0.4% and 2.5%, respectively.
Several Treasury notes auctions took place last week. However, before looking at the details of the two-year Treasury note auction, we'll see why the two-year Treasury note auction did not take place on October 29.