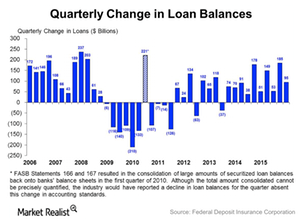 Net Charge-Off Rates Fell to Their Lowest Levels since 2006
By Rebecca Keats

Updated
Loan portfolios of US banks grew in 3Q15
In this part of the series, we will analyze the size and growth of loan portfolios of US banks (IYG) in the third quarter of 2015.
Loan and leases grew by 1.1% year-over-year by $95.3 billion in 3Q15. This was led by a $58 billion increase in commercial and industrial loans, followed by a $13.6 billion increase in credit card balances and a $10.8 billion rise in auto loans. Almost all major loan categories displayed a year-over-year increase.
Article continues below advertisement
Non-farm, nonresidential real estate loans grew by 2%, and multifamily residential real estate loans were up 4.4%. Loans to small businesses and farms rose by 0.2%, or $1.6 billion, year-over-year. During the quarter, Wells Fargo's (WFC) core loans portfolio grew by 9%, while auto originations were up by 10%.
Comparatively, Citigroup's (C) core loan portfolio grew by 5% year-over-year, and the bank saw higher credit card sales. Bank of America (BAC) also recorded 10% higher average loans and issued 1.3 million credit cards during the quarter. JPMorgan Chase's (JPM) loan portfolio grew by 4% compared to the previous quarter.
Charge-off rates decline
In 3Q15, loan losses were lower than in 3Q14. Net charge-offs were down 6.2%, at $8.7 billion year-over-year. The quarterly net charge-off rate fell to 0.4% from 0.45% a year ago to its lowest levels since 3Q06. Charge-offs were lower in most loan categories except commercial and industrial loans, where they increased by 25.3%.
Charge-off rates are defined as the flow of a bank's net charge-offs (gross charge-offs minus recoveries) during a quarter, divided by the average level of its loans.
Loan loss reserves reduced consecutively for the 21st quarter, as $8.7 billion net charge-offs were higher than the $8.5 billion provisions created by banks during the quarter. The industry's ratio of reserves to total loans and leases declined from 1.4% to 1.37%, its lowest level since 2007.