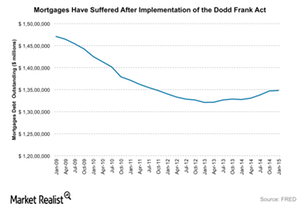 The Dodd-Frank Act Has Suffocated Mortgages
By Rebecca Keats

Nov. 18 2015, Updated 10:07 a.m. ET
Dodd-Frank Act has affected mortgages
In this article, we'll study the impact of the Dodd-Frank Act on mortgage providers such as Wells Fargo (WFC), Bank of America (BAC), JPMorgan Chase (JPM), and BB&T (BBT).
The Dodd-Frank Act directly affects both the primary and secondary mortgage markets. The Act created the Consumer Finance Protection Bureau (or CFPB) to regulate primary loan activity and to protect mortgage consumers. The Act also created regulations in the financial markets to oversee financial institutions that play major roles in providing mortgages in the secondary market.
After the regulations came into effect, banks were required to double-check all documents related to the borrower's tax returns with the Internal Revenue Service. This verification adds about a week of delay into the overall mortgage process.
Article continues below advertisement
The law has impacted homebuyers negatively
Although the purpose of this law is to protect consumers from another 2009-like crisis, it also has an undesired impact on homebuyers. Some elements of the Dodd-Frank Act may inhibit many potential homebuyers from obtaining mortgages for desired properties. Analysts believe this law will impact mortgage companies' bottom lines.
Eventually, these additional costs toward loan origination will be passed on to the consumer, affecting home purchases. Instead of protecting the consumer, these regulations have put a stranglehold on the mortgage-lending process for many Americans.
To worsen matters, the Federal Reserve will soon begin to raise interest rates (TLT) in the economy. This will make mortgages more expensive.