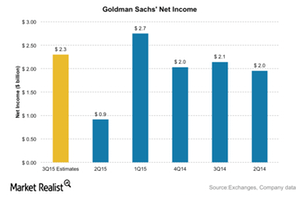 What Wall Street Analysts Expect from Goldman Sachs's Earnings
2Q15 earnings lower due to high litigation expenses
In the previous parts of this series, we looked at Goldman Sachs's revenues versus analysts' estimates. Now let's look at the company's EPS (or earnings per share) versus analysts' estimates
In past quarters, litigation issues and regulatory probes led to higher legal costs for Goldman Sachs, which pressurized their earnings. The company is focusing on controlling expenses by restructuring its businesses and boosting revenues, which should offset the effect of elevated legal costs.
Earnings were already suffering due to low interest rates and tepid demand for many kinds of loans, and the global slowdown just made matters worse during the quarter.
Article continues below advertisement
Analysts 3Q15 estimates
Wall Street (SPY) analysts expect Goldman Sachs (GS) to post net income of $2.3 billion for 3Q15. This is compared to $916 million in net income reported in the previous quarter. However, it must be noted that the earnings for the previous quarter were much lower due to high legal expenses. For 3Q14, the company reported net income of $2.14 billion.
Earnings per share (or EPS) is expected to be $5.12 for the quarter, higher than the $1.98 reported in 2Q15 and the $4.69 reported in 3Q14. EPS for 2Q15 excludes the $2.77 decline caused by litigation costs.
In comparison, peers such as Citigroup (C), Wells Fargo (WFC), and Bank of America (BAC) are expected to report EPS of $1.56, $1.05, and $0.35, respectively, for the third quarter.
On average, analysts expect Goldman Sachs to post $16.25 EPS for the current fiscal year and $19.40 EPS for the next fiscal year.