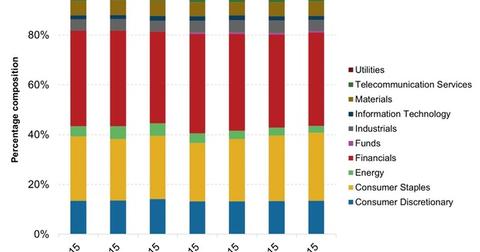 The T. Rowe Price Latin America Fund (PRLAX): Portfolio Overview
By David Ashworth

Updated
Overview
The T. Rowe Price Latin America Fund (PRLAX) seeks long-term growth of capital by investing "primarily in the common stocks of companies located, or with primary operations, in Latin America." Generally, the fund will invest in at least four countries from the Latin American region. The fund's primary geographic focus is on Argentina, Brazil, Chile, Colombia, Mexico, Peru, and Venezuela.
Bottom-up stock research for stock selection represents the backbone of the fund's investment process. The fund management team does not aim at a specific geographic exposure. Instead, it is primarily driven by stocks deemed suitable to the investment objectives of the fund.
Article continues below advertisement
PRLAX's assets were invested across 47 holdings as of September 2015, when it was managing assets worth $470.66 million. As of September, the portfolio's equity holdings included CorpBanca (BCA), Grupo Aval Acciones Y Valores SA (AVAL), Grupo Financiero Galicia SA (GGAL), and Grupo Financiero Santander Mexico (BSMX). Its top ten holdings made up 52.1% of the fund's portfolio.
Historical portfolios
For this analysis, we'll be considering PRLAX's holdings as of June 2015, as this is the latest sectoral breakdown available to us as of October 2015. The fund's holdings after June reflect valuation-driven changes to the portfolio, not the actual holdings.
Here's a breakdown of PRLAX's sectoral holdings and changes in composition:
Financials formed 37% of the fund's portfolio, followed by consumer staples, which made up 27% of the fund's assets. The only other sector with exposure in double digits is the consumer discretionary sector, which forms over 13% of the fund's assets. The fund does not have any exposure to the health care sector.
In the year previous to September 2015, the fund manager increased the portion of consumer discretionary stocks. This sector used to form 9.3% of the fund's assets one year previously, and now it forms 13.4%. The consumer staples and financial sectors also increased their space in the portfolio during this time.
Energy stocks have been understandably out of favor. The industrials sector saw its share decrease from ~7% in the previous year to 4.5% as of June 2015. The materials sector also saw its allocation decrease from 8.6% to 5.8% over the same period.
But how did PRLAX perform in September? Which sectors contributed the most and least to its returns? Continue to the next part of this series to find out.