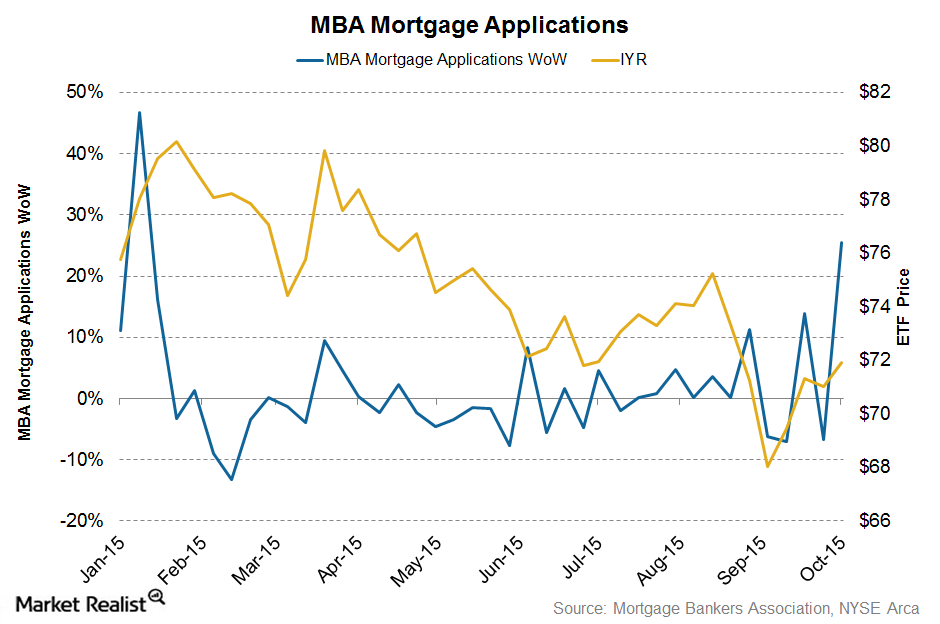 Mortgage Applications Increased Prior to Regulatory Change
Mortgage applications increased 25.5% for the week ending October 2, 2015
As of October 3, 2015, lenders must use new integrated forms under the Truth in Lending Act (TILA) and the Real Estate Settlement Procedures Act of 1974 (RESPA). Consequent to the regulatory change, mortgage applications increased 25.5% for the week ending October 2, 2015, against a decrease of -6.7% in the previous week.
The new disclosures intend to assist consumers in understanding the costs and risk factors related to mortgage loans.
Article continues below advertisement
IYR increases with rising mortgage applications
Mortgage rates at lower levels encourage purchase and refinancing
MBA (Mortgage Bankers Association) mortgage applications take into account the number of Americans applying for mortgages to buy homes or to refinance existing loans. The rate on 30-year fixed-rate mortgages averaged 4% for the week ending October 2, 2015, against the prior week's level of 4.1%.
With the lowest rate in the last five months, the MBA Refinance Index increased 24% and the Purchase Index increased 27% from the last week.
With the expansion of conventional, affordable offerings, the Mortgage Credit Availability Index (or MCAI) also increased 0.3% to 126.5 in September. An increase in this index suggests a loosening of credit in the economy.
Purchasing a house requires a significant amount of funds. Until home buyers are optimistic about the future, they will likely not pursue this choice. An increase in the number of mortgage applications suggests that consumer sentiment is improving. This is a positive sign for the real estate market and for overall economic growth.
The iShares U.S. Home Construction ETF (ITB) is also faring well with the better housing outlook. The ETF was up 5.4% over the past week as of October 7, 2015. Home construction stocks such as D.R. Horton (DHI) and the Lennar Corporation (LEN) were up 3.9% and 4.9%, respectively, over the same period.
An increase in mortgage applications suggests that consumer spending is accelerating, which is good for rebounding economic growth.
Like housing, industrial production data is important for understanding the business cycle and growth profile of a country. Germany's industrial production data have been released. We'll cover this in the next article.