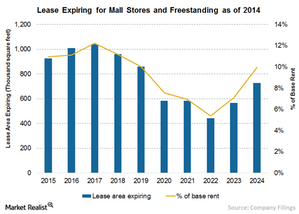 Why Long-Term Anchor Tenant Leases Are Beneficial to Macerich
Lease expiry
Tenant lease expiry is a primary cause of rental erosion for retail REITs (real estate investment trusts) like Macerich (MAC), Simon Property Group (SPG), CBL & Associates Properties (CBL), and General Growth Properties (GGP), because in an over-rented market new lease terms are generally fixed in favor of the tenants, and the cost of lease renewals, or new lease agreements, forms a part of the freeholder irrecoverable expenditure—a cost that drives a company's NOI (net operating income) down, causing the drop in cash flows. This, in turn, tends to have a direct impact on yields and total returns of properties.
Article continues below advertisement
Mall stores and freestanding leases
The above graph shows Macerich's scheduled lease expirations for centers and anchors owned as of the end of fiscal 2014 (excluding Great Northern Mall) for the next ten years. This, of course, assumes that none of its current tenants exercise renewal options.
According to the graph, Macerich (MAC) has 10.97% of base rent represented by lease expiry for mall stores and freestanding expiring rent in the current fiscal year, whereas 11.11% will be expiring in the coming fiscal year. Macerich (MAC) makes up 2.80% of the holdings of the iShares Cohen & Steers REIT ETF (ICF).
The majority (55.49%) of Macerich's mall store and freestanding leases are for less than five years, whereas 36.94% of the leases are for more than five years. In a rising interest rate scenario, this majority of short-term leases bodes well because it can be marked to market at a prevailing interest rates.
Anchor tenants lease
On the other hand, the majority (40.5%) of Macerich's anchor tenant leases are for more than five-year periods, whereas leases with less than five-year durations comprised 28.35% of the total. These long-term leases for anchor tenants bode well for retail REITs as anchors have traditionally been a major factor in the public's identification with regional shopping centers.
But although the centers receive a smaller percentage of their operating income from anchors than from mall stores and freestanding stores, strong anchors play an important role in maintaining customer traffic and making the centers desirable locations for mall store and freestanding store tenants.
Continue to the next part of this series, wherein we'll discuss Macerich's revenue growth.